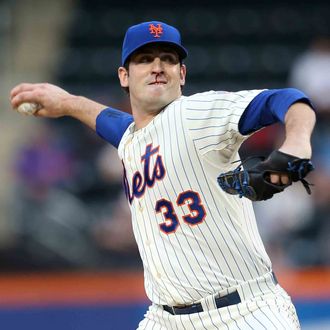 Matt Harvey, last night.
Photo: Nick Laham/Getty Images
So last night, after taking care of a first-inning nosebleed, Matt Harvey went on to pitch about the best baseball game you'll ever see: He allowed just one hit — an infield single — in nine innings, walked nobody, and struck out twelve. (The Mets won in ten but gave Harvey no support, leading to a historically unfair no-decision.) Harvey's been incredible over the first month-and-change of the season: He's second in the National League in ERA, first in WHIP, first in strikeouts, first in WAR, and third in innings pitched, just a tick behind the leaders. In the off-season, the Mets (smartly) traded R.A. Dickey, who'd been the N.L.'s best pitcher in 2012. And we'll be damned if they don't have the best pitcher in the league so far in 2013.
Harvey isn't the only thing Mets fans have been able to get excited about in recent years: David Wright is a bona fide star, Dickey's 2012 season was a pleasure to watch, and then there was that time Johan Santana threw a no-hitter. But Harvey's emergence is the biggest sign yet that the Mets' rebuilding process is actually happening on the field, and not just on depth charts and farm reports. 
Harvey actually pre-dates Sandy Alderson's arrival in the organization, but he worked his way through the system since being selected seventh overall in 2010, made his debut last season, and has dazzled thus far in 2013. Mets fans have been burned by well-hyped pitchers before — Generation K, anyone? — but so far, Harvey's been everything they could have hoped for. He appears to be the type of pitcher the team can build around — the type of young arm every team in baseball dreams of developing. As exciting as Dickey was last year, and as likable as he's always been, he was 37 years old in 2012. His success was wonderful, but it didn't signal anything about the team's future (other than increasing his trade value in order to acquire young players). Harvey, on the other hand, is gonna be here for a while.
It's always dangerous to heap too much praise on a pitcher with just seventeen big-league starts, and Harvey alone won't make the team a legitimate contender. (As we write this, the Mets are 13-16, in fourth place in the N.L. East.) But none of that should keep Mets fans from being downright giddy about Harvey. 
The Mets, as you might imagine, are doing what they can to capitalize on the buzz: We count at least three e-mails in our in-box from the team's ticket office hyping Harvey starts this year. The next of those starts, by the way, is scheduled for this coming Sunday, at Citi Field.