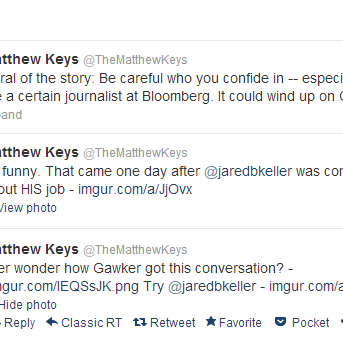 Matthew Keys might be having a meltdown. The former deputy social media editor at Reuters, once a budding Twitter celeb in the news business, was indicted on hacking charges in March and fired from his job last week. Today he decided to get one of his peers fired, too.
Jared Keller was let go as director of social media for the notoriously strict Bloomberg Businessweek this afternoon, hours after Keys tweeted two-month-old private messages from Keller in which he disparaged his employer and said, "I fucking hate it here." Keys posted the DMs in apparent retaliation for Keller leaking a conversation to Gizmodo in March, when news of Keys's indictment first broke. This afternoon, following Keys's little public tantrum, Keller tweeted, "Today was my last day at Bloomberg. It was a great run at a great company." He declined to comment further when reached by phone. Bloomberg also declined to comment.
Keys has waged a scorched-earth campaign against his former employer since being fired, taking issue with his termination in several posts on his blog. He has gone after critics of his error-ridden coverage of the Boston bombings, when he freely reported information heard over police scanners, and has sent Facebook messages to several journalists who have unfollowed him on Twitter, including Keller himself. Other recipients have described them as "threatening" and "crazy." Numerous New York journalists and social media professionals have privately expressed their reluctance to confront Keys or speak publicly about his erratic behavior for fear of his reaction. As one prominent Twitter personality said in an e-mail this afternoon, "He set Jared's career on fire just to watch it burn."
In an e-mail to Daily Intelligencer this evening, Keys said, "If he was fired, was it because of something I said today, or because of something he did back in March?"
This post has been updated.