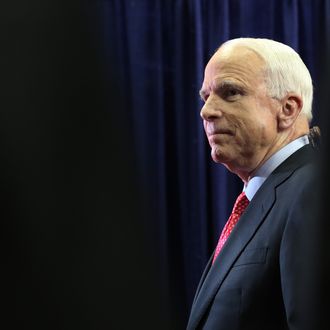 Photo: Spencer Platt/2012 Getty Images
John McCain has been one of the most vocal supporters of increased U.S. aid for Syrian rebels, and also one of the biggest critics of Obama's hesitancy on the matter. In the last month, the senator wrote a Time op-ed arguing that failing to intervene would further destabilize the region, and said on Fox News Sunday that Obama's "red line" on Syria is written in "disappearing ink." On Monday, McCain's attacks on the lack of U.S. intervention in Syria's civil war entered a more active phase when he snuck into the country via its border with Turkey for an unannounced visit with fighters opposing President Bashar al-Assad's regime.
McCain met with opposition leaders in both Syria and Turkey, and throughout the trip he was accompanied by Gen. Salem Idris, leader of the Supreme Military Council of the Free Syrian Army. "The visit of Senator McCain to Syria is very important and very useful especially at this time," Idris told the Daily Beast, which broke the story. "We need American help to have change on the ground; we are now in a very critical situation." He also elaborated on what the rebels are hoping the U.S. can supply. "What we want from the U.S. government is to take the decision to support the Syrian revolution with weapons and ammunition, anti-tank missiles and anti-aircraft weapons," Idris said. "Of course we want a no-fly zone and we ask for strategic strikes against Hezbollah both inside Lebanon and inside Syria."
The Obama administration is considering doing more to support the Syrian opposition, but is concerned about inadvertently arming Al Qaeda–affiliated groups in the movement. Late on Monday, the European Union lifted its arms embargo on the Syrian opposition, which allows member states to send weapons — but no country is currently planning to do so. Both the U.S. and the E.U. are hoping to pressure the two sides into negotiating at an international conference in Geneva next month, though it seems unlikely that the rebels' terms will be met. "We are with Geneva if it means that Bashar will resign and leave the country and the military officials of the regime will be brought to justice," Idris told the Daily Beast.
McCain's trip was coordinated by the Syrian Emergency Task Force, an American nonprofit supporting the Syrian opposition. A State Department official said the department was aware that McCain crossed into Syria, but he failed to give at least one important person a heads up:
It seems the White House was less thrilled by McCain's "badass"' antics, as it declined requests to comment on the senator's excursion.