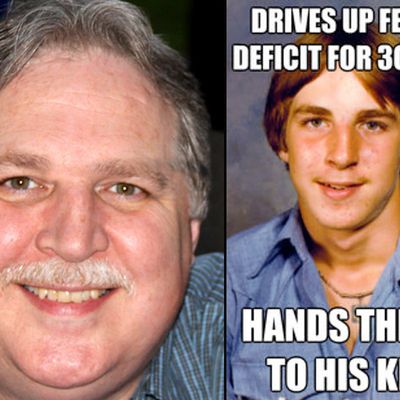 Photo: Courtesy of Kenn Kiser
In the past several weeks, a photo meme has exploded on Reddit, Facebook, and in several other corners of the social web. The meme, called "Old Economy Steve," is designed as wry commentary on the way today's young people struggle with student debt, unemployment, and other recession-era economic concerns, only to be described as lazy and entitled by members of an earlier, luckier generation. The photo associated with the meme, of a seventies teen with a Partridge Family haircut, has sparked nearly a thousand Quickmeme posts and has become, as The Atlantic put it, "the official meme for embittered Millenials."
Until now, nobody has identified the smirking teen in the photo. But with some Internet sleuthing, we tracked down the genuine Old Economy Steve and asked him what it feels like to become the face of an out-of-touch generation.
The real Old Economy Steve is Kenneth W. Kiser, a 48-year-old graphic designer and hobbyist photographer from Coshocton, Ohio. Contacted by e-mail, Kiser said he had no idea his old school photo (taken "in the late seventies," when he was about 14 years old, he said) was being circulated as a meme until a relative brought it to his attention less than a week ago.
"Having read only a few dozen of the captions, I've found many of them to be quite funny, and a few were even accurate to my life in particular," he said. "I knew people were creating more and more versions of the meme each day, but was surprised to learn that it has gone viral."
Kiser's school photo ended up on the Internet thanks to morgueFile, a photo repository site where he volunteers as a moderator. Kiser posts many photos to morgueFile, making them available for free use (though always retaining the copyrights), and spends time sorting, approving, and assigning keywords to images posted by others. Kiser's photos had been used thousands of times, and his school portrait was used in a 2010 Yahoo post about acne myths, but not until this month was it picked up and transformed into Old Economy Steve, cementing his place in the meme pantheon.

"Friends and relatives alike have encouraged me to create promotional items such as T-shirts, coffee mugs, cards, etc., to try and profit from my ten minutes of fame," Kiser said. "As a longtime graphic/web designer and art director, designing products would be very easy. However, I have no idea where to even begin the process."
Kiser, an Air Force veteran who worked for many years as an art director for newspaper and magazine publishers, said he didn't mind serving as the butt of a joke about the unsympathetic members of his generation.

"To be honest, I wasn't sure about any political or social agenda the creator may have had in mind when creating the meme, and I've yet to analyze them enough to make any analogies," he said. "Rather, I choose to simply enjoy the fact that someone has found a purpose for one of my photos. So long as my images aren't used for illegal activities or hate-related purposes, I accept the fact that not everyone sees the world the way I do, and people are entitled to their individual beliefs and opinions."
In contrast to Old Economy Steve, Kiser — whose e-mail signature reads "All Around Nice Guy" — is facing some problems more associated with the new economy. For the past three years, he has been unable to work because of degenerative disc disease in his back and has had four surgeries and one minor procedure to try to bring himself back to health. His wife works as an advocacy director for the American Lung Association, and his son — age 18 — is going to college to study cardiovascular sonography. And while he has dealt with severe chronic back pain, Kiser is trying to launch his own graphic design studio, D3Graphix.
As for trying to capitalize on his fame, as Scumbag Steve and other popular-on-Reddit meme targets have done, Kiser says he has "no idea" how he would even begin to do so. For now, he is simply happy that his work is getting out there.
"Photography is my favorite hobby, and I find it to be very therapeutic as well," he said.