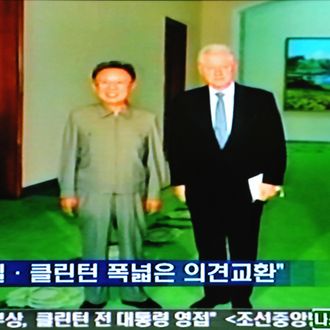 The sort of thing North Korea is probably looking for.
Photo: OFF TV/2009 AFP
As you may recall, before America was swept up in a series of terrifying domestic news stories, North Korea's increasingly belligerent actions were frequently in the headlines. Now North Korea has made another aggressive move, announcing that U.S. citizen Kenneth Bae has been sentenced to fifteen years hard labor for "hostile acts" against the nation. The state news agency offered no explanation of Bae's alleged crime, but according to The Wall Street Journal, he wanted to shed light on humanitarian issues in the country and might have been detained for possessing photos of homeless North Korean children. It's also very possible that Bae is just a bargaining chip in North Korea's ongoing feud with the United States.
Bae, who is a tour operator from Washington state, was detained after traveling in North Korea with a tour group in November. North Korea has ignored the State Department's calls for his release, and wouldn't allow Google's Eric Schmidt or former New Mexico Governor Bill Richardson to meet with Bae during their recent visits.
Kim Jong-un might be aiming for some more high-profile guests. As the New York Times notes, North Korea has pulled this stunt twice before. In 2009 American journalists Laura Ling and Euna Lee were sentenced to twelve years of hard labor, then freed when Bill Clinton met with Kim Jong-il. In 2010 American Aijalon Mahli Gomes was sentenced to eight years of hard labor, and only released when Jimmy Carter visited Pyongyang.
South Korean media is reporting that Carter is already trying to visit North Korea, and may be working to rescue Bae. Either that, or Carter just wants to talk with Kim Jong-un about their shared love of the Chicago Bulls and spend the next few weeks doing obnoxious interviews about how the dictator isn't such a bad guy.