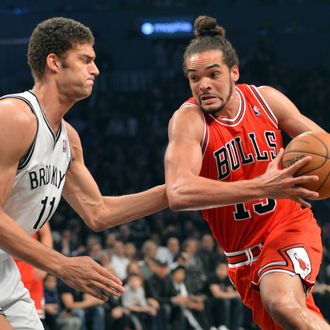 Where Brooklyn at? Out of the playoffs, that's where.
For all the Brooklyn "brand equity," for all the Blackout In Brooklyn, for all the hip uniforms and basic color schemes, for all the Jay-Z and Mikhail Prokhorov and Rosie Perez and Omar and Where Brooklyn At? … the whole Brooklyn Nets season, the whole experiment, came down to this one night in early May. This was the Nets as they were constructed, theoretically at their very best, with Deron Williams and Joe Johnson and Brook Lopez and Gerald Wallace at their healthiest, facing a Chicago Bulls team featuring players with plantar fasciitis, debilitating flu and freaking spinal taps. And that's not even counting the team's MVP who hasn't played all year. If the Nets weren't going to win tonight, when will they ever win?
It's a fair question, now that the Nets have been eliminated from the playoffs in a 99-93 game seven loss to the Chicago Bulls at Barclays Center tonight. It's a crushing loss, a squandering of a deeply advantageous set of circumstances any other team would have graciously obliged. Deron Williams seemed, at many points, the only Net playing hard; he scored 24 points with seven assists and six rebounds, but Joe Johnson was air-balling three-pointers in the last two minutes and missing one with 35 seconds left that would have cut a Bulls lead to two. (He air-balled another one in the final seconds, just for good measure.) Meanwhile, the Bulls were intense from the start, and more poised down the stretch. And Joakim Noah was the best player on the court, pretty much the whole night.
The Nets' first half, particularly the second half of the second quarter, was the disaster. They were outscored 32-19 that quarter and, other than Williams, looked disinterested as the inspired Bulls kept blowing past them. (It was the sort of half that made you furious to see Johnson scoreless at the end of it. Remember: fifth-highest-paid player in the NBA.) As the Nets diddled, the Bulls were fevered, particularly Noah, who had sixteen first-half points despite his injury and, you know, not many offensive skills. At halftime, down 17, you wondered if the Nets would just go ahead and head home for the off-season early, straight from that locker room. It looked like they were ready for it.
Fortunately, they came out strong in the second half, putting together a 20-8 run to briefly fire up the Barclays Center. But every time the Nets got too close, the Bulls had an answer, particularly from Noah, who really did have the game of his life. (He even had six blocks to go with his 24 points and fourteen rebounds.) All told, as much as a cliche and trope as it has become, the Bulls really did look like they wanted it more than the Nets did. They're a team with a little more playoff experience than Brooklyn, but it felt like more than that. It felt like the Bulls were hungry. And it felt like the Nets, with the possible exception of Williams, were okay, really, with whatever happened.
There is a temptation to say that Brooklyn, after this loss, after what has to be considered a disappointment of a season (losing to an undermanned Bulls team, on their home court, with everything falling their way), will be facing a ton of changes in the off-season. But they probably won't. This was certainly P.J. Carlesimo's last game as coach, but otherwise, these are the same Nets you will be seeing for the next three years. Williams, Johnson, Gerald Wallace and Brook Lopez are all signed through the 2015/16 season, for a combined $70 million. And they just lost to a barely-holding-it-together Chicago team in the first round. If this truly is the Nets' ceiling, their peak … it's gonna be a loong three years.