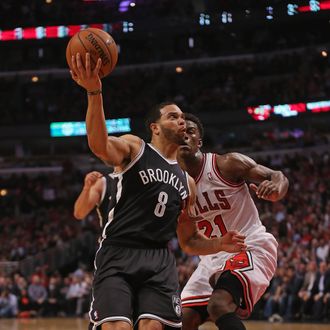 Game Seven is pending.
Photo: Jonathan Daniel/2013 Getty Images
The Brooklyn Nets couldn't possibly have asked for a better situation in game six tonight in Chicago. Sure, they were on the road, and they were facing elimination. But the Bulls not only didn't have star Derrick Rose, they didn't have key guard Kirk Hinrich (who had proven effective at guarding Deron Williams at the beginning of the series); had a still-gimpy Joakim Noah playing far more minutes than he should be playing with his plantar fasciitis; had their star sprite Nate Robinson so flu-ridden he had a garbage bucket in front of him on the bench; and were missing All-Star Luol Deng with an illness so serious they thought he might have meningitis. (They even gave him a spinal tap.) If they couldn't beat these guys, jeez, what are we even doing here?
The Nets did, somehow, hang on to beat the Bulls tonight 95–92, and even though the major takeaway from game six was "boy, the Heat are going to destroy whoever advances here," Brooklyn certainly avoided a disaster tonight. The Nets didn't play particularly well, but the Bulls were so depleted, so nearly out of players by the end, that it would have been embarrassing not to have come out ahead. That might not be the most inspiring post-playoff-win statement ever typed, but hey, it was that kind of game.
The Nets' best clutch player, obviously, who else, was Andray Blatche. He hit several big shots late and two huge free throws with nineteen seconds left to give the Nets that final three-point lead. Deron Williams scored seventeen points but wasn't that great tonight; many of those points came in a late first-half run. But honestly, the Bulls are so short on players right now that the Nets would have had to drop a game-four-esque egg to lose tonight. They didn't do that. Quite.
So, guess what, kids? It's game seven on Saturday night. This is, in fact, the first NBA game seven in the city in nearly eighteen years, since the Patrick Ewing missed finger roll game. The atmosphere at Barclays Center so far this playoffs has left a bit to be desired — though some early start times have contributed to that — but no one can deny the power of a game seven, even after a middling game like this one. The folks at Barclays Center still haven't quite taken the covers off the sofas there yet, and now they're hosting a decisive game seven. No matter what the Miami Heat are going to do to the winner, game seven is gonna be terrific. They always are. Tickets still available.