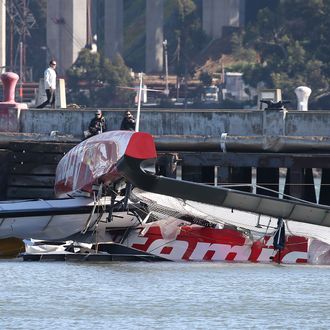 Photo: Justin Sullivan/2013 Getty Images
After Oracle's $10 million, 72-foot-long racing catamaran capsized last October during a practice for the America's Cup, people who follow competitive sailing started wondering aloud if the edgy new boat designs were safe enough in the first place. On Thursday, a crew member died as the Swedish team Artemis Racing practiced in the San Francisco Bay on Thursday. Now that the boats have taken a human toll as well as a monetary one, the questions about their safety are no longer abstract.
The AC72 catamaran operated by Artemis Racing flipped over in 20-knot winds, pinning crew member Andrew "Bart" Simpson, an Olympic gold medalist from England, underwater for 10 minutes, the AP reports. The 36-year-old served as the team's strategist, and joined Artemis in March after winning a sailing gold medal for England in the 2008 Olympics, as well as a silver medal in 2012.
It's still not clear exactly what caused the accident on Thursday, but the new, multimillion dollar AC-class boats leave no room for error — and crashes can be catastrophic. The super-lightweight crafts use a wing-shaped sail to hit speeds of 45 mph, cruise with one hull out of the water, and can even hydrofoil on special daggerboards. If the rudders come out of the water — as happened to Oracle's vessel last fall — the boat loses steering and can't maneuver out of the full force of the wind, according to skipper Jimmy Spithill told, who spoke to Wired.
Sail Racing Magazine editor Justin Chisolm told Slate's Seth Stevenson, "the wing sail on the AC72 is bigger than a wing on a jumbo airliner—it generates incredible amounts of power. That needs to be controlled, which is not always easy in San Francisco with its high winds and tough currents."
Two years ago, as the smaller AC45s were hitting the scene, Wired's Adam Fisher wrote that "their mix of speed and agility, their skittishness, and a blue-sky design that no one's ever raced before mean that spectacular crashes and capsizes aren't just likely, they're inescapable." He pointed out that "if a sailor were to lose his grip as an AC72 capsized, he might fall four stories before hitting the water."
Thankfully, nobody was hurt on the Oracle boat last fall, but the wing sail was so badly damaged a new one had to be flown in from New Zealand at a cost of nearly $2 million and 40,000 person-hours of labor, Fisher reported. Thursday's fatality makes it clear teams stand to lose much more than money if they want to race the very latest and best in sailing technology.