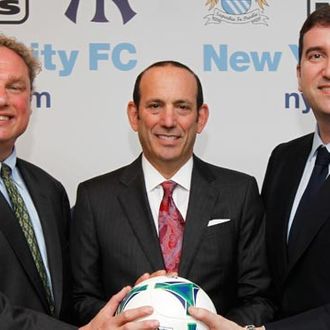 From left: Yankees president Randy Levine, MLS commissioner Don Garber, and Manchester City Football Club CEO Ferran Soriano.
Photo: Courtesy of MLB
Major League Soccer has long wanted a second team in the New York metropolitan area to go along with the Red Bulls, who have "New York" in their team name but play in Harrison, New Jersey. More specifically, they've been looking to add a team somewhere in the five boroughs, and today the league announced that it's officially going to happen. Here, now, some questions and some answers about the expansion franchise.
When is this happening?
The team expects to begin play in 2015.
What will it be called?
New York City Football Club or, according to the press release, NYCFC.
Who owns the team?
It'll be owned by a partnership between the Yankees and the Manchester City Football Club of the English Premier League. (One imagines the name "New York City Football Club" is meant to mimic the name of the Manchester City Football Club, in addition to driving home the fact that the team will play within the five boroughs.)
Wait, the Yankees are involved?
Yes, they'll be an investor in the new club, though Man City will be the majority owner. (The Yankees wouldn't disclose the percentage of their stake.) That said, expect the Yankees to promote the hell out of the new team. The Yankees have a well-known brand, and they'll do what they can to make the new team an extension of that brand.
Was this ownership arrangement unexpected?
The Times reported last month that Sheik Mansour bin Zayed al-Nahyan, a member of the Abu Dhabi royal family whose private investment firm owns Man City, had entered into final negotiations to buy an expansion franchise that would play in New York City. The Yankees' involvement wasn't reported at the time. (Man City had, however, already been scheduled to play an exhibition match at Yankee Stadium this week.)
Where will they play in 2015?
The press release announcing the franchise says the team is "arranging to play in an interim home beginning in its inaugural MLS season in 2015." Via Howard Megdal, Yankees president Randy Levine hasn't ruled out either Yankee Stadium or Citi Field.
What they really want is a soccer-only stadium, right?
Yes. MLS officials had already begun discussions about a stadium in Flushing Meadows Corona Park, and the announcement specifically mentions that the new franchise will continue those discussions. In fact, Neil deMause wonders if the Yankees' involvement is an excuse to get Levine — a former deputy mayor — involved in stadium negotiations. (The press release says the club "will continue to review" other permanent sites as well.)
Does the Yankees' involvement mean we'll get to hear John Sterling call soccer goals?
God willing.