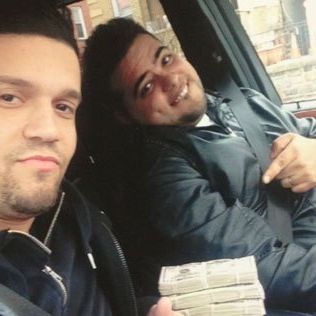 The members of the New York "cashing crew" accused of participating in the massive, extremely well-executed global heist that used hacked debit card data to steal $45 million from ATM machines around the world were not the smoothest of criminals — though they did manage to get away with $2.8 million, the second-largest haul in the city's history. The men were mostly high-school classmates employed as bus drivers and pizza delivery guys in a working-class Yonkers neighborhood. Only one of them, Evan Pena, had a criminal record. But this winter, they suddenly started buying Rolex watches and luxury cars and heading down to Miami for shopping trips. They also took a lot of show-offy photos (such as the one above.) Law enforcement officials say the group's lack of discretion made it easier to find, arrest, and prosecute them, according to the New York Times.
Though the men were part of a sophisticated cyber-crime with accomplices in over twenty countries, it's possible that they didn't even know the true identities of the people pulling the strings. Patrick Brackley, a lawyer representing one of the suspects, Elvis Rafael Rodriguez, told the New York Times, "They probably couldn't even find the countries where this scheme was created [on a map.]" He added that they were on the "very, very low, low end" of the criminal hierarchy.
The New York cell's leader, 23-year-old Alberto Lajud-Pena, fled to the Dominican Republic, where he was fatally shot in April. However, his death is not believed to be connected to his role in the robbery — the police say he was murdered by cousins who planned to rob him after noticing that he had come into some money. Investigators are still trying to learn more about how the New York crew was recruited by the masterminds of the operation (as well as the organizers themselves.) From the Times:
In court documents made public, investigators point to e-mail correspondence between Mr. Lajud and an organization in Russia known to be involved in money laundering.

They also cite a trip three of the men made to Bucharest, the Romanian capital, on Jan. 9 — 19 days after the first $5 million was withdrawn from 4,500 A.T.M.'s. The plane tickets, according to court documents, were bought in cash after American Airlines canceled the original reservation, suspecting a stolen credit card had been used to book the flight.
Meanwhile, Germany announced on Friday that two Dutch citizens who made ATM withdrawals in Düsseldorf have been arrested in connection with the heist. And Reuters has outed India's ElectraCard Services as one of the previously unnamed debit card processing companies infiltrated by the scheme's hackers, just in case you happen to be a bank CEO in search of a secure place to take your debit card business.