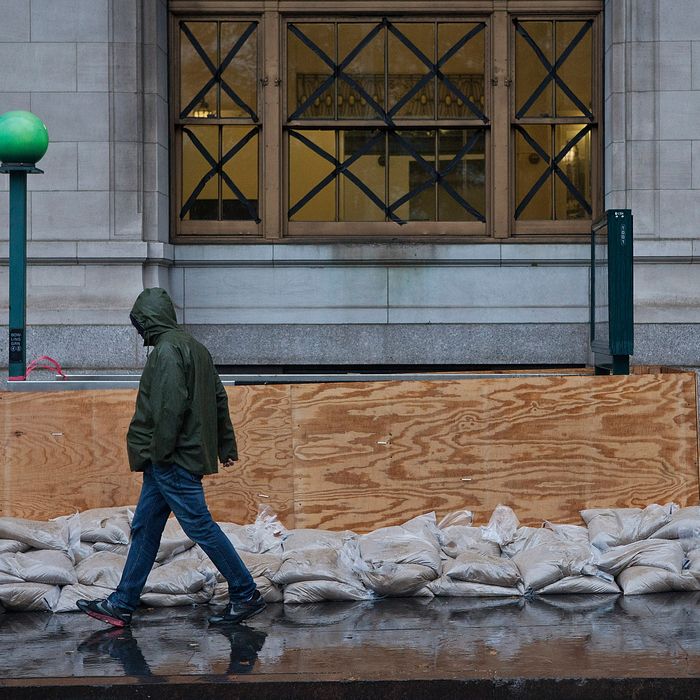 Subway protection methods haven't advanced much since last October.
Photo: Andrew Burton/2012 Getty Images
There was a time, not so long ago, when hurricane season had little to do with New York City. Then Hurricane Irene hit in 2011, as did Hurricane Sandy in 2012, with devastating consequences. It's impossible to know if New York will find itself staring down another major storm this summer, but NOAA has already predicted that hurricane season — which officiallly began Saturday — will be unusually strong this year. "The outlook calls for a 70% chance of an above-normal season, a 25% chance of a near-normal season, and only a 5% chance of a below-normal season," a recent NOAA report warned. 
So here's the $19 billion question: Are we ready for the next Sandy?
And here's the answer: It depends, obviously, on what aspect of storm preparedness you focus on. But in general? No. Not really. 
The Subway
Sandy flooded the subways like never before, grinding the city to a halt for days and causing long-lasting damage in some cases. The South Ferry 1 station returned to service just two months ago (via an old tunnel), and a stretch of A line in the Rockaways came back online last week. But if another Sandy-type storm hits the city this summer, the subways might not fare much better than last year, because advanced solutions to subway flooding — like putting up temporary walls around subway stairwells, or plugging entrances with inflatable bladders, for example — are still months or years away.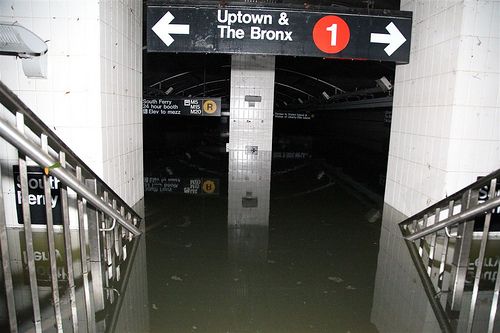 "If a hurricane were to approach the city in the immediate term, the agency's best option for fortifying stations would most likely be the same: sandbags, plywood, and the hope that water would not find a way through," the Times reported in May. In an effort to limit the amount of water that would "find its way through," the MTA plans to be extra diligent about sealing as many as possible of the 540 subway openings in lower Manhattan that have been identified as potential weak points. 
"I can't say for a fact we covered all 540 [before Sandy]," Thomas F. Prendergast, the MTA's  interim executive director, said recently. "So, what we want to do is make sure we have an exhaustive list of all our entry points and we have a specific solution for each one of them."
Nevertheless, could the subways get flooded again if the city is hit with another Sandy? "Absolutely," Prendergast admitted. 
The Power Grid
The subway system wasn't the only piece of city infrastructure that suffered under Sandy. As a certain famous photograph documented, hundreds of thousands of Con Ed customers were left without power when the power grid crapped out, leaving some residents in the cold and dark for days or weeks afterward. Such widespread outages seem somewhat less likely this summer thanks to $400 million in improvements Con Ed has made since October. These include constructing more than a mile of concrete walls around power substations and raising transformers and other equipment off the ground. Con Ed hopes to spend another $1 billion over the next four years on further protective measures (and is asking the state for the right pass the entire cost on to their customers.)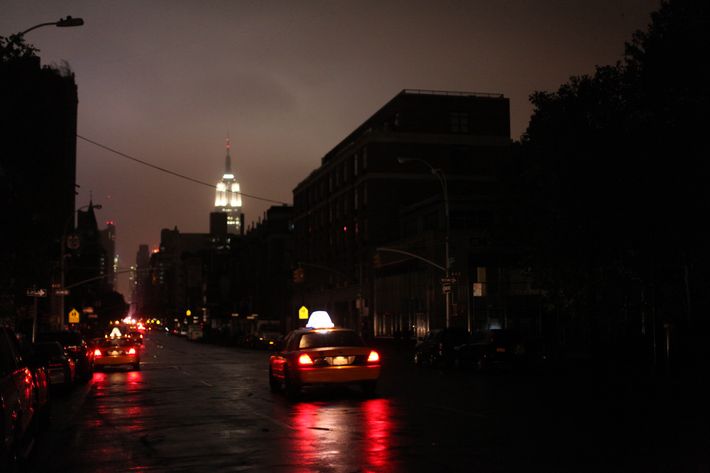 The Hospitals
Five hospitals were evacuated during Sandy, and though there were no fatalities, the process was risky, difficult, and not something that anyone wants to repeat. Irwin Redlener, the director of the National Center for Disaster Preparedness at Columbia University and the co-chair of Governor Cuomo's post-Sandy disaster readiness commission, says the evacuations stemmed from "coordination and organizational issues as well as physical, structural, and infrastructural issues which were extremely problematic."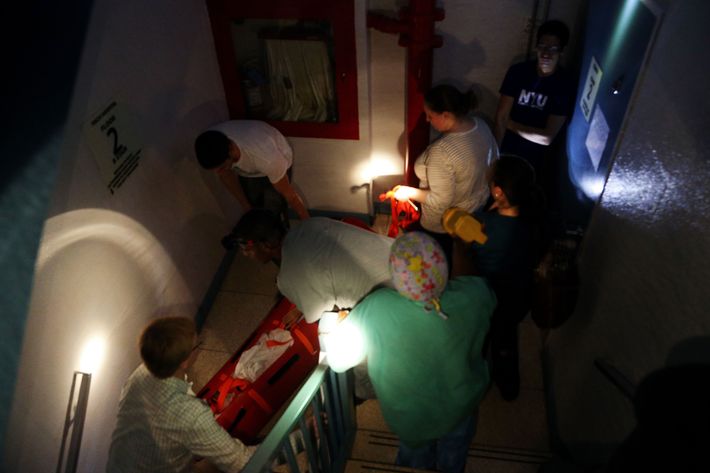 However, the costs of ameliorating these issues are high — and federal cutbacks to hospital preparedness funds have made the effort more difficult at the worst time.  "We're on a collision course with fate here," Redlener says, "because we're just creating a situation where disaster resiliency is not where it should be and the resources to improve this resiliency are simply not available."
Since Sandy, "There's no evidence that significant improvements have been made yet," Redlener tells us, though not due to a lack of effort. "There's a lot of meetings happening, so I don't think the hospitals are ignoring it. I just think that we're dealing with a short time frame and very little money."
The Fuel Situation
New Yorkers were having flashbacks to the seventies (not the cool parts) as fuel shortages and long lines at the gas station plagued the greater metropolitan area for weeks after Sandy hit. Unfortunately, there's no easy fix.
"The ability to get gasoline to fuel pumps in a crisis is not only dependent on protocols that emanate from government," Redlener says. "And the government's authority over the private sector element of the fuel supply chain is limited. The best they can do is create incentives to help elements of the supply chain function better next time."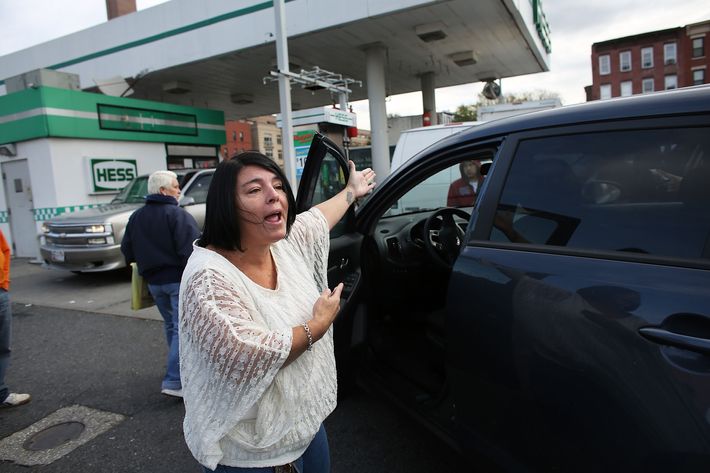 Governor Cuomo's disaster readiness commission recommended the creation of an emergency gasoline reserve, but Cuomo was wary about the costs of such an endeavor, and it remains merely a hypothetical solution. Instead, Cuomo pushed through a proposal in the state budget that requires 1,450 gas stations in the metropolitan area to wire themselves for backup generators.
As for the rest of the fuel supply chain, it remains very vulnerable. "We would, in essence, be in the same situation minus some additional gasoline stations still having power thanks to backup generators," a spokesman for AAA told Reuters in April.
The Shoreline
The Rockaways, one of the areas hardest hit by Sandy, may have its bathrooms and concession stands in time for beach season, but, so far, there isn't much stopping the next Sandy from destroying the area all over again. Certain stretches of sand along the southern coast will be, or have already been, fortified with HESCO barriers and TrapBags, the Daily News reports. And the sand that was lost to Sandy will be trucked in by the U.S. Army Corps of Engineers beginning this month, but the entire process — involving 3.5 million cubic yards of sand — won't be complete until sometime in 2014. All of these solutions, however, are piecemeal and temporary.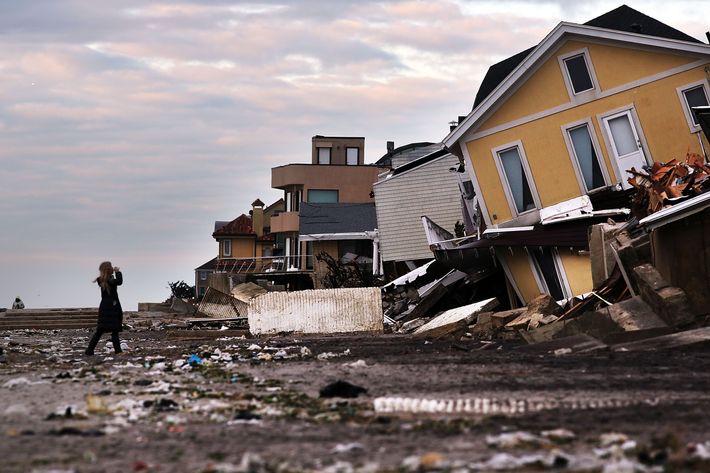 "We are going to be at the mercy of the next couple of storms," says John Cori, a local activist and member of Friends of Rockaway. 
"The only reason why some residents would be less impacted is that so much housing infrastructure has yet to be rebuilt," Michael Sinensky, Friends of Rockaway's executive director, tells Daily Intelligencer. "So they have less to lose this next season."
Staten Island's coast will be beefed up with a "reinforced dune system," but it won't be in place until around the middle of hurricane season. And one of the hardest-hit areas of the city — Midland Beach, where Sandy killed eight people — was left out of the project because it wasn't deemed vulnerable enough according to Army Corps of Engineers guidelines.   
If the city can't save the homes lining its shoreline, it can at least order the people living in those homes to get to safe ground before the storm hits. This month, the Bloomberg administration will announce an updated, six-tier evacuation plan (up from three tiers) which will place an additional 640,000 or so residents in an evacuation zone. (Of course, evacuation orders are only effective if people listen, and they often don't.). A tentative map of the new borders was released in May: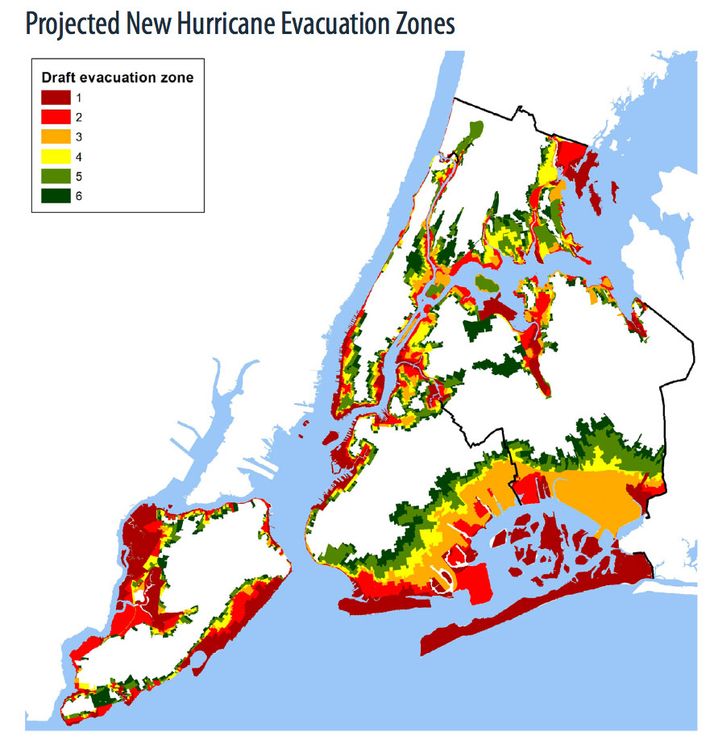 All in the all, the city's best hope is that hurricane season simply passes it by this year.
"I think there's probably intention on the city's part to improve the level of preparedness for major storms," Redlener says. "I just don't think that there's any evidence so far that we've made great progress."