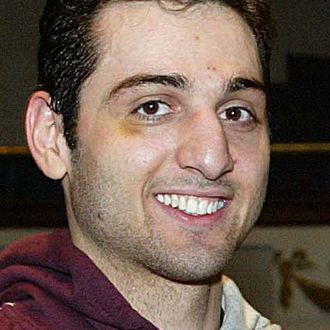 The body of Boston bombing suspect Tamerlan Tsarnaev — which was released to his sisters and uncle Ruslan Tsarni on Thursday after his widow, Katherine Russell, refused to take it — has yet to find a final resting place. Around twenty people protested the arrival of Tsarnaev's remains at one North Attleborough funeral home, so they were moved to Worcester's Graham Putnam and Mahoney Funeral Parlors. Now, owner Peter Stefan (who confirmed that Tsarnaev's death certificate said he died from gunshot wounds and blunt trauma) is facing similar protests, along with another predicament. "My problem here is trying to find a gravesite. A lot of people don't want to do it. They don't want to be involved with this," he told the Associated Press.
Stefan has some experience with difficult clients. "I've had murderers here, people that murder their kids, people that murder their parents," he said in a New York Times interview. However, he's having trouble convincing local cemeteries to match his tolerance. "I keep bringing up the point of Lee Harvey Oswald, Timothy McVeigh or Ted Bundy. Somebody had to do those, too," he explained.
The Tsarnaevs reportedly "requested a simple graveside service, after the body is washed in accordance with Muslim custom." Stefan said that he would ask for help from the government if he cannot find someone to help him carry out the family's wishes.