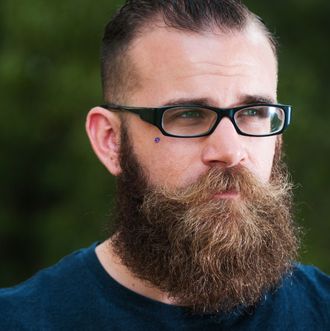 Even the joke about the New York Times "discovering" Brooklyn is old. It was way back in 2010 — when the world was first getting into Ke$ha and we were only on Iron Man 2 — that Brian Williams, America's cool dad, mocked the Paper of Record for its overly sincere, near-daily "story about all the riches offered in that borough," like the open artisanal markets and cheeses. But like the radio and the box office, not much has changed at the Times, where today, yet again, in a painfully obvious exploration of that magical hipster mecca Williamsburg, where people have facial hair and ride bikes. The twist this time being that it's supposed to be funny. It's not — it's just tired.
Henry Alford's "Will.i.amburg," now titled "How I Became a Hipster" online, is a loving-ish look at young people from a "middle-aged avowed Manhattanite," who just can't believe the things the kids are getting into these days. Of course, Alford would've known all about it, albeit still behind schedule, had he read the Times, which reported on the "artisanal-food-and-drink playpen" of Wythe Avenue, where Alford decided to conduct his sociological experiment, last summer. 
Back then, the Times found "usual hipster staples (yes, covered in tattoos and with beard)." Alford's second sentence: "I had fallen into conversation with the affinity marketer (beard, plaid flannel shirt, vintage work boots) in the lobby of the Wythe hotel in Williamsburg, a beehive of instrument-bearing musicians, nose-pierced locals and twentysomethings who use the word 'ridiculous' in nonpejorative contexts." You don't say?
"It's a humor piece," Times "Styles" section editor Stuart Emmrich told Daily Intelligencer via e-mail today, "one of several fish-out-of-water, first person pieces Henry has done in the past year or so, including being a male model during New York Fashion Week. Given the now-universal awareness of Williamsburg as a near-cliche of hipsterdom, it made sense to have Henry weigh in on the experience." The problem is he just cycles through the same clichés he's supposed to be sending up with an ironic distance, and the result is as bad as marveling at them with a straight face.
Alford's experience includes all the same superficial hipster signifiers — as railed against in the Times' "How to Live Without Irony" essay from the fall — that we've heard before. The Awl, in fact, made a glossary just this week, including "scruffy" (from 2004!),  "cardigan sweaters," "cocktails with artisan bitters," "fixed-gear bikes," "kale," "thrift-store dresses," and "vintage clothes."
It's almost like Alford used it for a reference point, as he checked every box: "scruffy," "a big, lumpy wool cardigan," "craft cocktails," a "fixie," "kale," and "vintage thrift-store clothes" — plus Lena Dunham and Girls — without any original insight. He calls Bedford Avenue "a veritable ocean of beard." The "joke" in his "Brooklyn sojourn" is partly that he's out of touch and partly that Williamsburg, in his words, "can verge on the precious." But even more clichéd than well-chronicled absurdities of the neighborhood is pointing them out for cheap laugh.