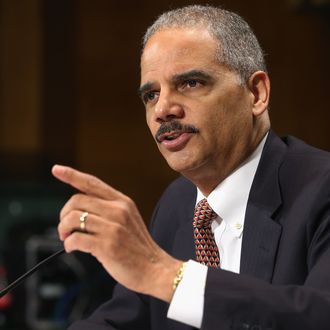 Photo: Chip Somodevilla/Getty Images
The prosecution of government employees who share information with journalists by the Justice Department under Barack Obama is not new — in fact, the administration has gone after more people than any in history (combined!) — but now people are paying attention. The DOJ's seizure of Associated Press phone records highlighted just how little patience the government has for those who leak national security information, and now the Washington Post has yet another glaring example: In the case against Stephen Jin-Woo Kim, a government adviser accused of leaking a classified report on North Korea, the government went all out on a Fox News reporter for doing his job.
According to new court documents, "FBI investigators used the security-badge data, phone records and e-mail exchanges to build a case that Kim shared the report with" James Rosen, the chief Washington correspondent for Fox News. In addition to tracking the pair's movement through a government building and the calls between them, the Justice Department seized two days of Rosen's personal e-mail and concluded that the reporter broke the law, "at the very least, either as an aider, abettor and/or co-conspirator."
While journalists, including Rosen, have not been prosecuted — thanks to the pesky First Amendment and all — in the leak cases, accusing Rosen of doing something illegal for "soliciting" information, a.k.a. reporting, "is a major escalation of the Obama DOJ's already dangerous attacks on press freedom," writes Glenn Greenwald at the Guardian. The case, at least, is getting some notice.