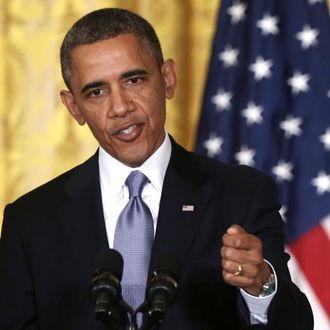 Photo: Alex Wong/2013 Getty Images
On Fox News Sunday, Paul Ryan listed the key points investigators need to clear up in the IRS scandal:  "Who knew? When did they know? Why did they do this? How high up in government did it go?" Answers to those questions are already trickling out, with The Wall Street Journal reporting that the chief White House lawyer, Kathryn Ruemmler, was informed last month that the investigation into the targeting of mostly conservative groups applying for tax-exempt status would probably conclude the IRS acted inappropriately. Yet, the White House insists that President Obama only learned about the controversy when it was made public on May 10, sparking more debate about when the president should have been informed, and what action his administration should have taken.
The fact that a Treasury inspector general was examining the IRS's handling of political groups wasn't exactly a secret. Last summer J. Russell George, the inspector general, informed the Treasury Department's general counsel and its deputy secretary that he was conducting the audit. He also told Rep. Darrell Issa, chairman of the House Oversight Committee, and as the New York Times notes, the matter appeared on a public website listing active investigations and audits.
In his appearances on five Sunday talk shows, White House senior adviser Dan Pfeiffer said the issue wasn't brought to President Obama's attention before May 10, and denied the suggestion from Republicans that the administration covered up the potential scandal due to the election. Pfeiffer pointed out that Issa, the Republican who requested the investigation, said last week that while he "knew what was approximately in it when we made the allegations about a year ago," he didn't say anything until recently because, "you don't accuse the IRS until you've had a nonpartisan, deep look."
The report found that the excessive scrutiny of political groups was the the fault of bumbling low-level bureaucrats who "were not influenced by any individual or organization outside the IRS." Yet, on Meet the Press Pfeiffer was asked if the Obama administration could have taken action to make sure political groups weren't being targeted before the investigation was finished. "No, we have a cardinal rule in these situations and as any — as any administration or White House would have, which is you don't interfere in an independent investigation and you don't do anything that will give the appearance of interfering an independent investigation," said Pfeiffer.
Nevertheless, Issa, who is holding a hearing Wednesday on the issue, told The Wall Street Journal that the White House should have done something many months ago. "In waiting so long to address wrongdoing and inform the public, President Obama and his administration seem more preoccupied with having deniability than quickly addressing serious wrongdoing," said Issa.