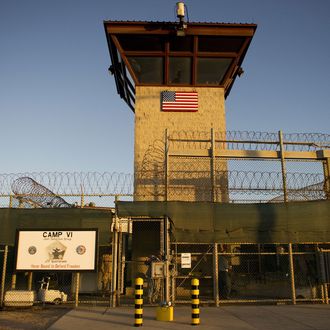 Front gate of "Camp Six" detention facility in Guantánamo Bay.
Photo: JIM WATSON/AFP/Getty Images
In addition to announcing restrictions in the use of unmanned drone attacks, President Obama's big national security speech on Thursday will address another controversial aspect of his counterterrorism policy: His failure to close Guantánamo Bay. While Obama won't get into specifics in the speech, he's expected to announce that he's renewing his push to close the prison by restarting the transfer of detainees to their home countries, and reappointing a State Department official to oversee that effort. Officials tell The Wall Street Journal that will involve lifting the ban on sending prisoners back to Yemen, which could still be a long and difficult process.
The hunger strike that's grown in recent months to include 102 prisoners has increased pressure on the administration to close Guantánamo, and now 18 lawyers representing "high-value" prisoners have sent a letter to Defense Secretary Chuck Hagel urging him to improve conditions there. According to Reuters, the lawyers claim that prison officials are spying on their meetings with their clients, seizing confidential legal documents. They also say guards are harassing prisoners with excessive cell and bodily searches (not to mention brutal force-feedings, if one prisoner's New York Times op-ed is true).
The prison still holds 166 detainees, and 86 have been cleared for transfer. That includes 56 from Yemen, but the administration suspended transfers to the country in 2010 after it was revealed that the attempted underwear bomber was trained there by Al Qaeda. Since the election of President Abed Rabbo Mansour Hadi last year, Yemen has increased cooperation with the U.S. on counterterrorism. The Journal reports that officials from the two countries have been negotiating in recent weeks about restarting the transfers, and the Yemeni government says it will monitor detainees released from Guantánamo and provide programs to help them reintegrate into society.
It's likely that some non-Yemeni detainees will be released first, and then only a few prisoners will be transferred to Yemen to make sure that the government can prevent them from joining militant groups. Officials say it might take months for the transfers to Yemen to begin, and advocates note that this wouldn't be the first time President Obama failed to follow through on his promise to close Guantánamo. "He needs to make it clear he is serious this time," said Andrea Prasow, a counterterrorism counsel at Human Rights Watch. "He promised the same thing four years ago. What makes this different? The transfers are what make this different."