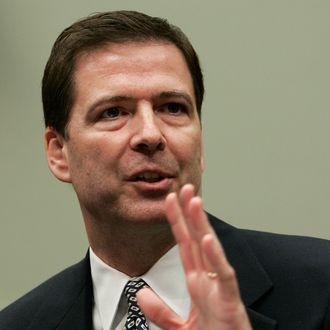 James Comey.
Photo: Alex Wong/2007 Getty Images
After twelve years on the job, FBI Director Robert Mueller must step down in September due to a term-limit intended to prevent another J. Edgar Hoover. NPR reports that President Obama has decided to replace him with James Comey, an experienced former Justice Department official who's hard to place politically (as New York learned way back in 2003). Comey is a Republican who served as deputy attorney general under President George W. Bush (and contributed to the campaigns of Obama's opponents in the last two presidential elections). However, he's best known for blocking the Bush administration's warrantless wiretapping of Americans in a dramatic confrontation with White House aides at John Ashcroft's hospital bedside.
In 2004 White House counsel, Alberto Gonzales, and Bush's chief of staff, Andrew Card, tried to get John Ashcroft to reauthorize the administration's constitutionally suspect eavesdropping program while he was hospitalized and disoriented. Comey, who was serving as acting attorney general, learned of the plan and intercepted them at the hospital room. Ashcroft deferred to Comey, and Bush wound up making changes to the program. Comey recounted the incident before Congress three years later. Per the New York Times:
"I was angry," Mr. Comey said in his testimony. "I had just witnessed an effort to take advantage of a very sick man, who did not have the powers of the attorney general because they had been transferred to me. I thought he had conducted himself in a way that demonstrated a strength I had never seen before, but still I thought it was improper."
Obama's second choice was reportedly Lisa Monaco, his chief counterterrorism adviser, who would have been the first woman to head the FBI. Since Monaco was at the Justice Department during the attack in Benghazi, there was concern that Republicans would use her confirmation hearing as another opportunity to dig into how the administration handled the incident. Of course, there's no guarantee that Comey's confirmation will be easy. Senate Republicans didn't spare former colleague Chuck Hagel, and senators should be able to find something to fight about in Comey's colorful past.