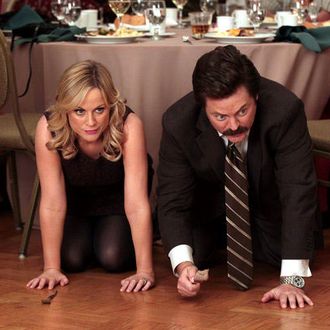 The local Parks Department is not as wholesome or dull as one might imagine from watching a certain NBC comedy program. New York City, to be sure, is no Pawnee: The city agency is under investigation for its reportedly raunchy holiday parties, according to the Daily News, at which temporary employees were made to strip and "tantalized as many as 10 men at a time" in hopes of landing better jobs. The debauchery allegedly began in 2009 and has become something of a hazing tradition on the floor below the more buttoned-up annual celebration at a government-owned facility on Randalls Island. At last year's party, the women were allegedly told, "If you want a job, get on the pole."
Rampant workplace sexual harassment is rarely limited to one day a year, and indeed Parks Department supervisors are being probed on various other allegations, including the claim that one man in a position of power "lifted [a female employee's] shirt and ran his tongue across her stomach before shoving his face in her crotch." There are also allegations of bra-snapping.
Deputy Chief of Operations James Cafaro and his supervisor Angelo Figueroa are both named in the complaint, which also includes text message exchanges like this one:
Worker: You want me in the office? Am I in trouble?
Cafaro: Do u want to be in trouble?
Cafaro is also accused of tipping a woman $20 for dancing at one of the holiday parties, where one employee was said to have made "a couple hundred bucks" and "shared it with her female colleagues." Junior positions at the Parks Department start at $9 per hour, while seasonal employees make $14.