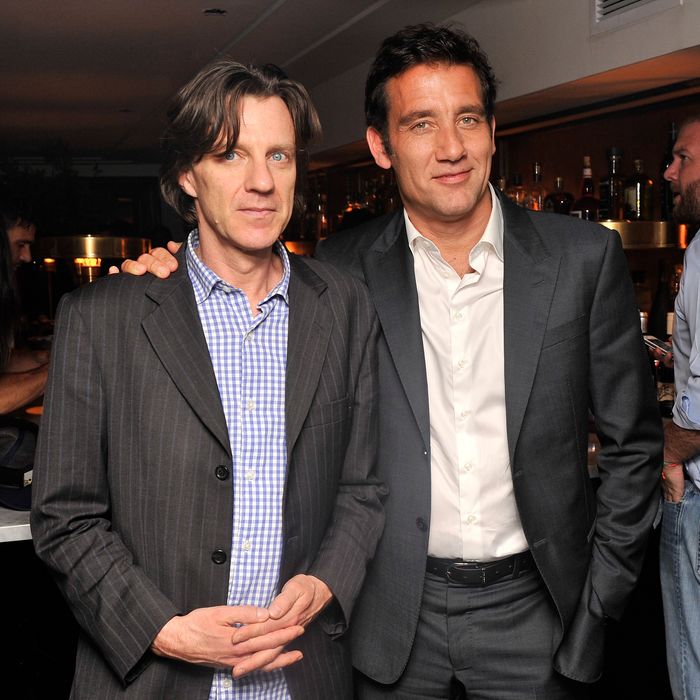 James Marsh and Clive Owen have eaten numerous slices of pizza.
Photo: Stephen Lovekin/Getty Images
Even Patrick Stewart's fellow Brits are baffled that it took the actor 72 years to eat a slice of pizza.
"Wow," Clive Owen said last night at the Landmark Sunshine's premiere of Shadow Dancer when Daily Intelligencer broke the news to him."I've definitely had New York pizza. Of course! Of course! That's just strange on his part."
"What's he been doing?" Owen added, shaking his head with a smile. "What has he been doing?"
Shadow Dancer's director, James Marsh, who is also British — and known for documentaries like Project Nim and the Oscar-winning Man on Wire — agreed with Owen's assessment. 
"Wow, he waited a long time for that," Marsh said. Unlike Stewart, Marsh is well acquainted with the New York–style slice.
"I've had pizza drunk, stoned, sober, and I loved it," he recalled. "There's the Famous Rays, Ray's Famous; there was one in Greenwich Village that I used to go to when I was first here in the late eighties — I think it was on Greenwich Avenue — and that was great to get a slice."
Marsh also appreciates some of the attributes of pizza in New York that the rest of us take for granted: "In England, nothing's given to you for free, and in New York, you can get the herbs, the chili flakes, all this free stuff that you can put on top of it. You can really make something of it with all that stuff," he mused. "I might have one tonight, now that I'm thinking of it."