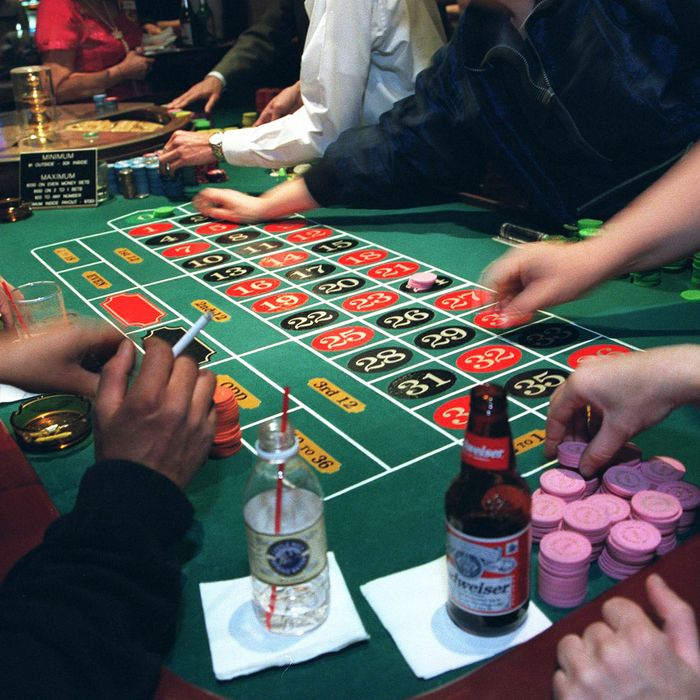 At the Bellagio in Las Vegas today, there are some pretend gamblers — people betting tiny sums on hands of blackjack and poker and plugging nickels into slot machines. And then, in the conference center just off the main casino, there are the real gamblers — hundreds of hedge fund workers, all dressed in suits and ties and ready to talk about throwing billions of dollars around the global markets.
This is SALT — properly known as the SkyBridge Alternatives Conference — an annual confab of hedge fund industry workers thrown in Vegas by Anthony Scaramucci, a garrulous hedge fund booster who was described by our own Jessica Pressler as "a petite man-shaped fireball of energy."
SALT, now in its fifth year, is a perennial draw for many of America's biggest investors and political figures — people like George W. Bush, Bill Clinton, Al Gore, and Sarah Palin have attended in the past. And this year's event promised to be the biggest ever. So let's go inside.
This year's SALT features a one-on-one talk with Al Pacino. What does Al Pacino have to do with hedge funds, you ask? Good question. Nobody seems to know.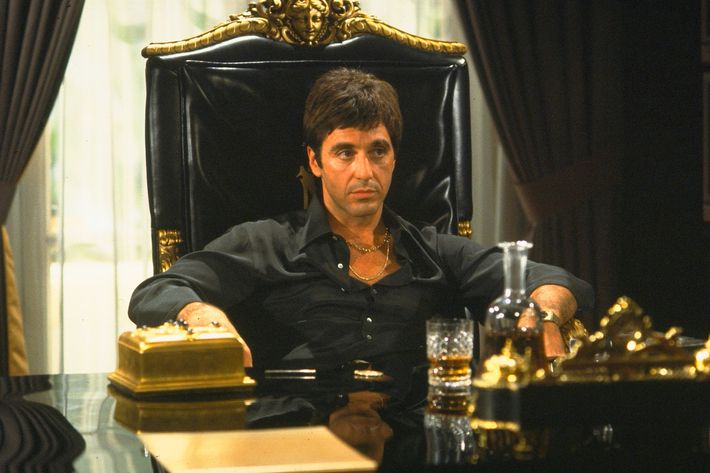 This year's other big-hitters are people like John Paulson, Dan Loeb, and former French president Nicolas Sarkozy. ("Did he bring Carla Bruni?" one attendee wondered aloud.) Karl Rove is also here, presumably to stir up Republican donors for his political projects.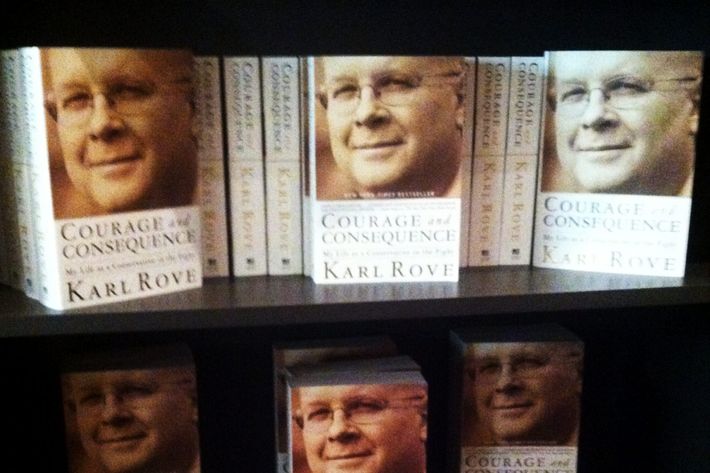 The swag bag for this year's SALT contains some SkyBridge-branded sunglasses, some sunblock, a water bottle, and a backup phone charger.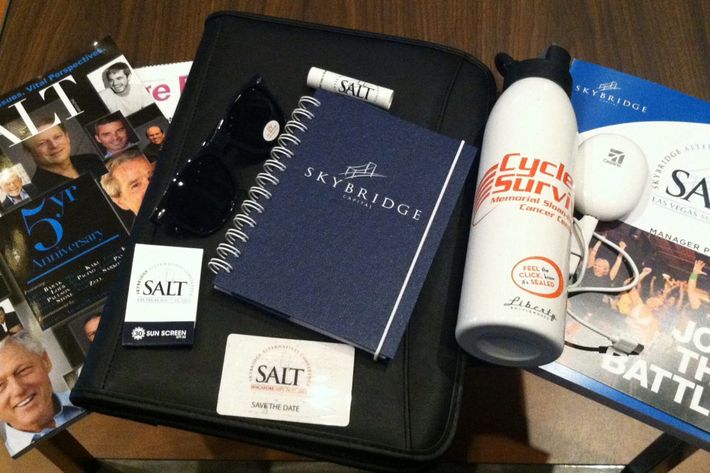 But the most useful thing in the swag bag was a CollarCard. It looks like a business card …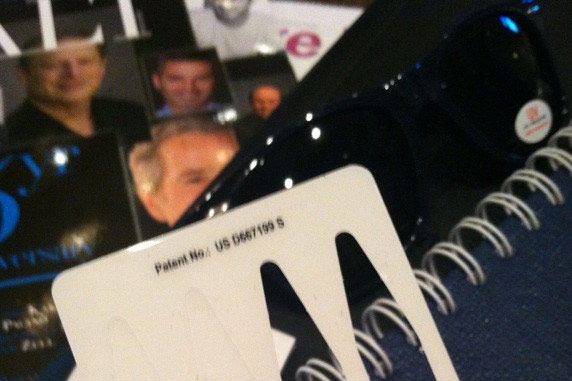 … but it's collar stays for your dress shirt! Genius.
There are some advantages to a conference dominated by men. If you're a woman, for example, your bathroom visits probably won't require waiting in line.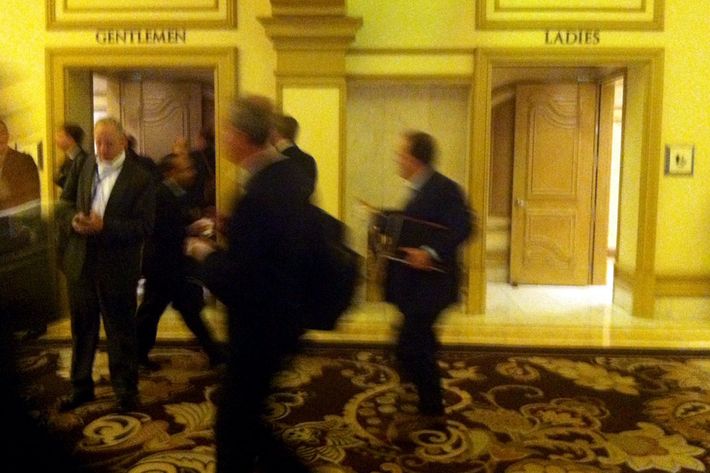 Outside the main ballroom where the panels take place, service providers that sell things to hedge funds have booths set up to show off their wares. Rob Scholl, a very nice salesman for Cessna, explained how I could get my very own private jet.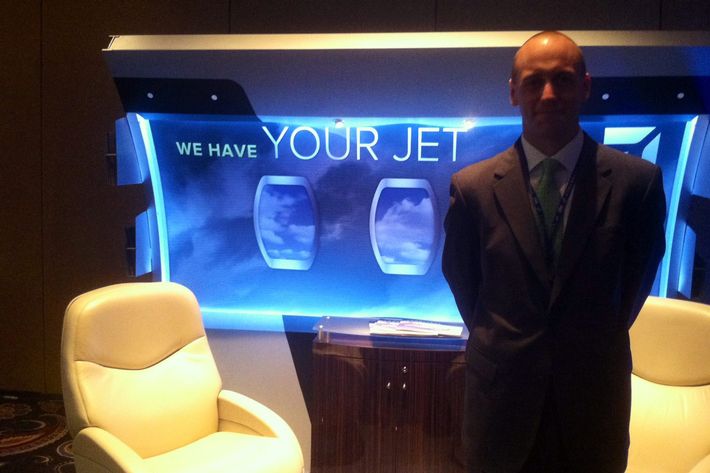 The free shoe-shine station was popular.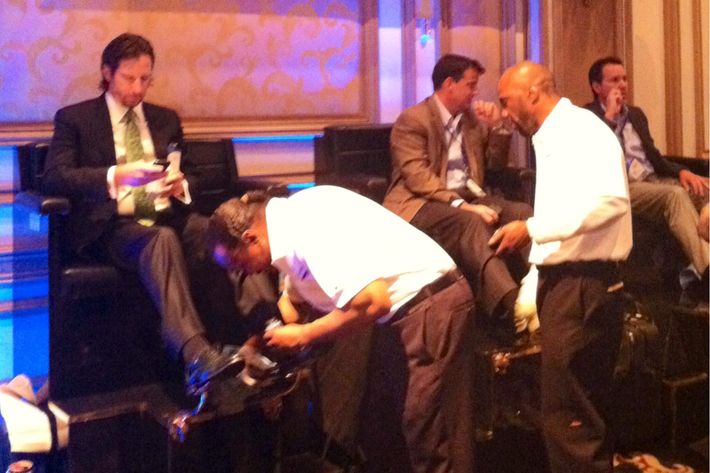 And CNBC showed up.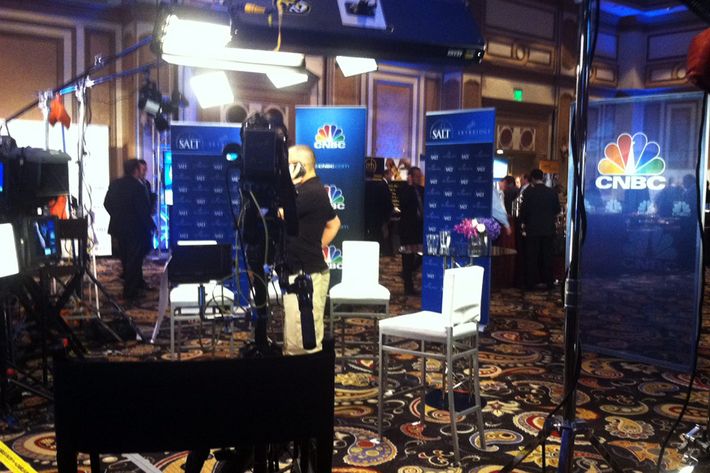 But honestly, a lot of SALT looks like this: men talking quietly on their phones.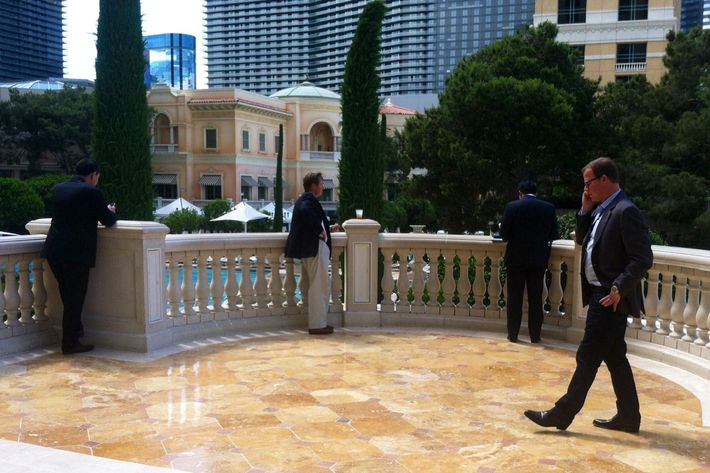 And panels, of course. Lots of panels. All talking about some element of hedge fund strategy or the macroeconomic picture. (The drinking-game words this morning were risk, leverage, and Ben Bernanke.)
The secret of SALT is that the real high rollers don't go to the panels. They spend their days in poolside cabanas and their nights at the casino. Many hedge fund managers play poker, baccarat, and other favored games of the capital class. But maybe one of them will try out this Ghostbusters slot machine.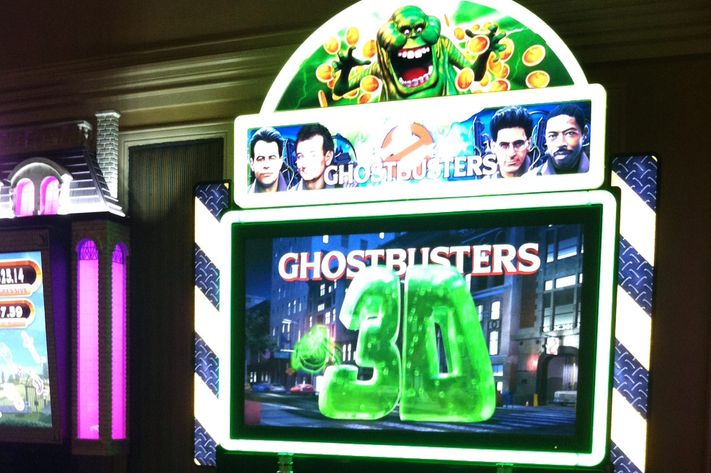 By lunchtime on Wednesday, some SALT attendees had already bolted out to the pool. Later tonight, it'll be decorated in a Cinco de Mayo theme for Scaramucci's legendary annual pool party. (Tomorrow night, Train is performing.)
The dress code at SALT is business attire, and most people here dress in boring gray and navy blue suits not worth photographing. Except this guy; he's cool.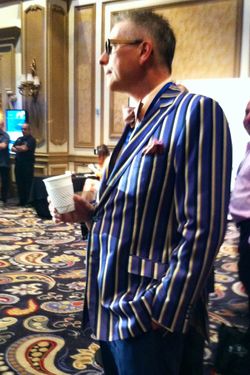 Alas, I don't know if this guy was here for SALT or simply a Vegas tourist. But his deck-of-cards suit is snazzy.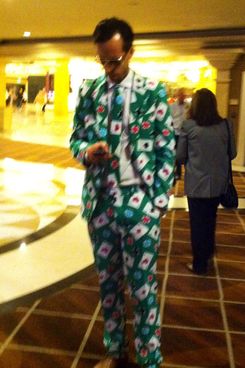 The mood at SALT this year is a little muted. Hedge funds aren't performing well, relative to the overall stock market, and many investors are beginning to question whether the fee-heavy world of alternative investments is worth it. That, among many other questions about the state of affairs in Hedgistan, will be discussed this week.
Still, it won't be all business. When not attending dour hand-wringing panels and celebrity guest appearances, it's a good bet that sometime over the next three days, a bunch of hedgies in Vegas will find a way to get their kicks.