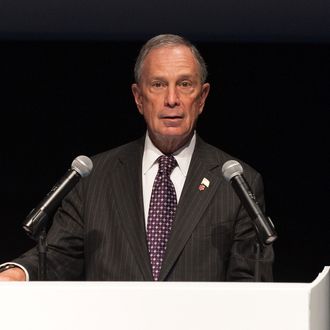 Bloomberg doesn't fear the contents of any Tupperware.
Photo: D Dipasupil/Getty Images
When a ricin-laced letter addressed to President Obama was found last month, police arrested an Elvis impersonator who claims he stumbled onto an organ harvesting plot. Then authorities concluded that he was actually being framed by his "longtime personal enemy," a tae kwon do instructor and alleged child molester who briefly gave the feds the slip. The man currently being questioned by federal agents in New Boston, Texas in connection with the latest round of ricin mailings sounds far less intriguing. Sources tell the Post and NBC News that the Army veteran's wife called 911 after finding a Tupperware containing a suspicious substance in their fridge, and online searches for President Obama, Mayor Bloomberg, and ricin-making instructions.