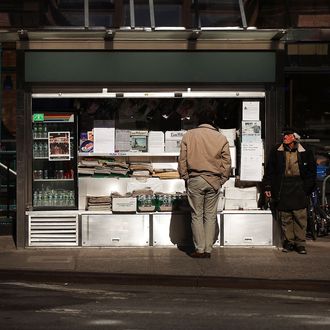 Photo: Spencer Platt/2012 Getty Images
Did you know that New York City law currently prevents newsstands from selling items worth more than $5? We did not, though the exceptions allowed for cigarettes, newspapers, magazines, prepaid Metrocards, and calling cards make that rule less obvious to people who do not happen to run newsstands. Either way, in what is probably mostly an effort to seem more friendly to small businesses, mayoral candidate and current City Council Speaker Christine Quinn is endorsing an impending piece of legislation that would raise the newsstand price cap to $10. This is good news for newsstand owners, whose profits have suffered from the declining number of customers buying print publications and the rising costs of supposedly cheap things. "After cigarettes, the highest value is nothing, basically," said proprietor Manny Patel to the New York Post.
A $10 limit would allow vendors to improve everyone's lives by carrying stuff that people are always forgetting at home, such as cell phone chargers, earbuds, sunglasses, and toiletries. And, perhaps most importantly, the change could also make super-crappy umbrellas — the under-$5 ones that are guaranteed to break or take out someone's eye by the end of the unexpectedly rainy day on which they were purchased — a thing of the past. "The $4 umbrella of 2002 isn't the same as the $4 umbrella of 2012-13," said Quinn as she announced the plan. "The $4 umbrella in 2013 — you're lucky if it's going to get you to the corner." Of course, assuming the proposal passes, it'll be up to the newsstand guys to make the dream a reality by actually stocking higher-quality umbrellas, as opposed to just selling the classic models for even more money than they are worth, which is approximately zero dollars.