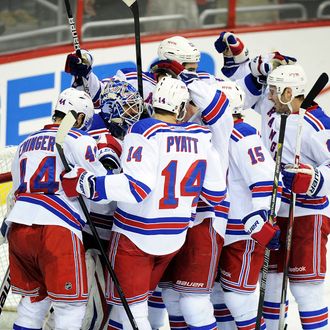 The Rangers celebrate their Game 7 win last night.
Photo: Greg Fiume/Getty Images
The home team had won each of the first six games of the Rangers-Capitals opening-round playoff series, and just about every game had been nail-bitingly close: Games 2 through 6 had been decided by one goal, and two of the games had gone to overtime. (Game 1, a 3–1 Washington win, was made to feel like a relative blowout.) These two teams have done this sort of thing before: Last year, their wild second-round series went the distance, with six of the seven games decided by one goal. There was every reason to think Game 7 would be an exhausting, down-to-the-wire affair — the kind of game that's almost too tense to enjoy. It wasn't. The Rangers won Game 7 in an absolute rout last night, crushing Washington 5–0 to advance to the conference semifinals.
The formula the Rangers used to win this series was as unexpected as the one-sided Game 7 result: Henrik Lundqvist was predictably brilliant (particularly with his team facing elimination), and defensively they did a great job shutting down MVP finalist Alexander Ovechkin, even with Marc Staal missing all but one game. But the Rangers' big guns were quiet in this series. Rick Nash didn't score a goal, and Brad Richards — who's at least paid like a big gun — scored just one goal with no assists. And for all the things Ryan Callahan contributes, the Rangers need him to score, and he was held without a goal until last night. Meanwhile, Arron Asham (who opened the scoring last night) matched his season output of two goals in this series. Brian Boyle did the same. Their best offensive player? Derick Brassard, who'd certainly impressed since coming over from Columbus, but wouldn't have been pegged as someone who'd lead the team in scoring in a playoff series.
You can look at the Rangers in one of two ways right now. On the one hand, they just beat a dangerous Capitals team without really flexing all of their muscles, so imagine what this team is capable of if its offensive stars find their respective games. On the other hand, they're not likely to make a deep run if they don't keep improving, as they mostly did as the series went on. Goals from the likes of Asham are nice, but let's not kid ourselves — they need Rick Nash to be Rick Nash. Those who choose the glass-half-empty viewpoint are hereby warned, though: On more than one occasion this season (just before the trade deadline, for instance, or after losing Game 2 to the Caps), it's appeared that this team was toast (or at least, in serious trouble). And yet they managed to right their ship in the regular season, just as they managed to hold serve in the playoffs and then win a road Game 7. That said, while the Rangers escaped the first round with a win, there are more difficult series ahead.
Speaking of which: The Rangers next play the Bruins in what will be the teams' first postseason series in 40 years. The teams have a lot in common: Both had uneven regular seasons, both teams saw key players struggle to score in the first round of the playoffs, and both teams have power-play issues. Both teams are also comfortable playing a physical, blue-collar game, though the Rangers embraced such a style a bit more last year. And like the Rangers, Boston needed seven games to get out of the first round, though the Bruins won their deciding game in considerably more dramatic fashion. (It's hard to imagine a more painful ending for a Toronto fan base that had been so hungry for postseason action. The videos of fans reacting to Game 7 in Maple Leaf Square last night are thoroughly depressing.)
Game 1 between the Rangers and Bruins is Thursday night, in Boston.