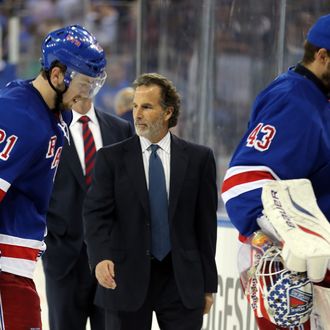 John Tortorella.
Photo: Bruce Bennett/Getty Images
It's up for debate when John Tortorella started to lose the Rangers' fan base. He lost some diehards forever with the way he handled fan-favorite Sean Avery. Others may have been turned off more gradually, tiring of his postgame behavior. (His rude interaction with popular announcer Sam Rosen earlier this season didn't win him any points.) Others might have turned on him for hockey-strategy reasons, such as when it became clear that he was powerless to fix their perpetually terrible power play — one that's inspired a million "Decline the penalty!" jokes from the blue seats. And still, others, of course, supported him till the very end, confident that the system he tried to institute would eventually take the Rangers to where they wanted to go.
But ultimately, what Rangers fans think of Tortorella matters less than what Glen Sather and team ownership think, and today, Torotrella was fired. A coach like John Tortorella — prickly, sometimes stubborn, and never hesitant to share his thoughts, tact be damned — will wear out his welcome a lot faster than other coaches, but winning makes up for a lot of things. And this year, coming off an encouraging season and with expectations sky-high, Tortorella's Rangers didn't win. After a mediocre regular season and a seven-game opening-round series victory, they were eliminated in five games by Boston this weekend, and their head coach is the first casualty of that exit.
Sather surely understands that if this Rangers team is going to win, it's going to be in the next couple of seasons. They were built to compete within a certain window of opportunity. And while Tortorella might have accomplished enough in New York to earn another chance, Sather instead has opted for a clean break now, rather than make a change and appoint a successor when it's too late. And no matter what Sather or anyone else says in the next couple of days, Tortorella's personality didn't help matters. If Sean Avery was right and he didn't have the respect of his players — particularly when times were tough this season — then this may have been inevitable. (Said Avery on Twitter this afternoon: "Don't ever doubt what i say :)" That smiley-face emoticon no doubt reflects his mood today.)
Tortorella favored a blue-collar style of play that relied on forechecking and shot-blocking, though it's also true that he was using a system that fit the roster he was given. For every Marian Gaborik (and later Brad Richards), there were multiple hard-nosed players that thrived playing that style of hockey. This year's team, though, was more of a hybrid: It had some of those selfless, blue-collar-type players, but with the addition of Rick Nash, it also was counting on a top line full of guys known for their skill. It quickly became clear that the team lacked depth, but perhaps it's no surprise that even after some moves at the trade deadline, Tortorella's team lacked a real identity. And establishing that identity is sort of the whole reason a team would keep Tortorella around.
Tortorella's final act in New York — or at least the final one fans would have the chance to criticize him for — turned out to be his handling of Brad Richards in the postseason. Make no mistake — Richards is to blame for his own struggles, but Tortorella's weird half-demotion of Richards was baffling. After burying the center on the fourth line — and, oh, did Torts love to shuffle his lines — he continued to play him at the point on the power play, even when he was ineffective to the point of hurting the team. It made Tortorella look helpless (he couldn't even get through to Richards, long understood to be a "Tortorella guy"), but more significantly, it showed he was incapable of making adjustments in a timely manner. Eventually, he'd scratch Richards from the lineup, but it was too late. And the press conference in which he told writers to "kiss my ass" if they misreported the reasons he made that move came off as weirdly forced — a transparent attempt to put the focus on himself rather than his player. We never used to believe that was his style — the fights he picked with the press always seemed authentic — but he was running out of tricks this spring. (As for Richards, we'd be shocked if he wasn't bought out this off-season.)
There'd been speculation that the relationship between Tortorella and franchise player Henrik Lundqvist — whose contract is up after next season — would go a long way in determining whether the coach returned next season. Whether or not that was a factor will be a topic of debate in the next few days, but either way, Lundqvist and his teammates will have a new coach next season. (A quick scan of our Twitter feed shows the names Lindy Ruff and Alain Vigneault getting thrown around a lot.)
Earlier this week, Tortorella talked about how he didn't believe this season was a disappointment, no matter what people say about it. He actually used the phrase a "sideways step," which is absurd. At the time, we wrote it off as coach-speak, but it now reads like someone trying to convince the world that he deserves to keep his job. The Rangers' issues, despite Tortorella's claim, went well beyond not having the right "mindset" against Boston. And now with news of Tortorella's firing, it's apparent that Glen Sather understood that.