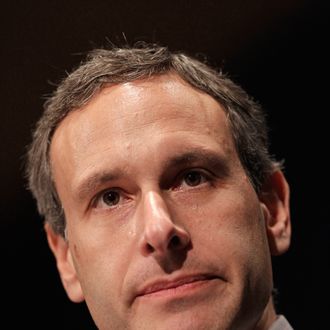 Douglas Shulman.
Photo: Chip Somodevilla/2010 Getty Images
The Associated Press has obtained a portion of a draft of a report that might contradict part of the IRS's Friday apology for applying extra scrutiny to tax-exemption requests from organizations whose applications included "tea party," "patriot," and mentions of Glenn Beck's 9/12 Project during the 2012 election season. In that statement, Lori Lerner, who is in charge of the IRS unit that oversees tax exempt groups, blamed the practice on "low-level workers in Cincinnati" who acted without the approval or knowledge of senior officials. However, the report, which was compiled by the inspector general and is due out next week, says Lerner was informed of the issue at a June 29, 2011 meeting. For her part, she instructed agents to alter their methods for flagging tax-exemption applications "immediately," though the criteria was not officially changed to "political action type organizations involved in limiting/expanding Government, educating on the Constitution and Bill of Rights, social economic reform/movement" until January 25, 2012.
The document also says the problem was brought to the attention of the IRS's chief council on August 4, 2011. That piece of information might turn out to be the real headache-inducer for the Obama administration — or, at the very least, former IRS head Douglas Shulman, who stepped down at the end of last year: During a March, 22 2012 congressional hearing held in response to tea-party groups' complaints of IRS harassment, Shulman insisted, "There's absolutely no targeting. This is the kind of back and forth that happens to people [who apply for tax-exempt status.]" Though the report does not say whether Shulman or any non-IRS administration officials were informed of the targeting, the AP points out that "it is standard procedure for agency heads to consult with staff before responding to congressional inquiries."
Republican representatives Dave Camp, Chairman Darrell, and Eric Cantor have already vowed to launch House investigations into the matter. Do not expect this one to go away any time soon.