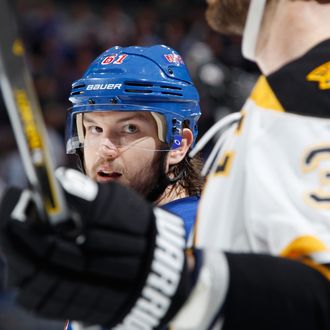 Zdeno Chara blocked this cameraman's shot of Rick Nash.
Photo: Scott Levy/NHLI/Getty Images
There are many, many reasons why the Rangers are facing elimination in Game 4 of the conference semifinals tonight: Their power play has been comically inept, Brad Richards has played his way out of the lineup (and quite possibly out of New York), and they've had to go the entire series thus far without their best defenseman, the injured Marc Staal. They're losing battles along the boards, making poor decisions when they do have the puck, and learning that they can't always rely on their goaltender to steal them games. It's really been quite the mess. But for now, let's just talk about Rick Nash.
Nash had a fine regular season, scoring goals and tallying points at a rate above his career average. (His per-game goal and assist numbers were his best since 2008-09.) Many of those were highlight-reel-worthy — his reach is every bit as incredible as it was in all those YouTube clips we watched during the lockout — and while the team disappointed during the regular season, he lived up to expectations.
The playoffs have been a different story. In ten postseason games so far, Nash has scored just once, adding three assists. We wouldn't go so far as to say he's been totally invisible — he's gotten off thirteen shots against the Bruins so far and leads the team with 35 in the postseason. But some of the one-on-one stuff that he pulled off in the regular season hasn't worked in the playoffs, when teams can prepare a plan for how to defend him on a nightly basis. He was brought in expressly to score goals for a team that struggled to do so last season, and he'll ultimately be judged by his production. And during these playoffs, he has not been producing.
It's worth stopping for a moment to remember that ten games is a very small sample. The fact that Rick Nash has had an unproductive 2013 postseason says nothing about his ability to "play in the clutch" or anything like that. But we also know that won't stop Nash from being labeled that way. Nash — who had just four games of playoff experience prior to getting traded to New York — is going to be here for a while, and with any luck, he'll play in a lot more postseason games. But barring a miracle comeback against Boston — one in which he snaps out of his slump and scores with some consistency — his ability to perform in the playoffs will be a capital-T Thing to a lot of people.
It'll get added onto any discussion of his first season with the Rangers (which is fair), but it'll also be something that's discussed throughout the summer and into next season, especially as next year's playoffs approach. He's been lucky during these playoffs that fans have most directed their ire toward Richards. But unlike Richards, he doesn't have a strong postseason body of work to point to.
Nash gets at least one more chance to produce in tonight's Game 4. We keep reminding ourselves that the Bruins blew a 3-0 series lead just a few years ago, but this Boston team is deep and has earned its three wins thus far in the series. It's possible that we'll learn that Nash is playing with an injury, the way Marian Gaborik did during last year's playoffs. But otherwise, whichever fingers aren't pointed at Richards will be pointed at him, unless something pretty dramatic happens starting tonight.