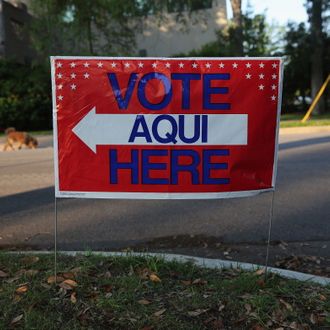 A recent study from the Heritage foundation criticizing the cost of the congressional immigration reform bill did not get a rousing reception from Republicans from the start, and now it has cost the party a key operative. Pablo Pantoja, the RNC's head of Latino outreach in Florida, wrote in a letter Monday that, because of the study and its author's past racist writing, he felt the GOP was too steeped in intolerance for him to remain a member of it. The study's author, Jason Richwine, wrote in a dissertation: "No one knows whether Hispanics will ever reach IQ parity with whites, but the prediction that new Hispanic immigrants will have low-IQ children and grandchildren is difficult to argue against." He's left the foundation, but the damage is done.
In his letter, first published in full Monday by Florida Nation, Pantoja wrote that he was "taking a stand against this culture of intolerance." On Richwine's dissertation, he wrote:
Although the organization distanced themselves from those assertions, other immigration-related research is still padded with the same racist and eugenics-based innuendo. Some Republican leaders have blandly (if at all) denied and distanced themselves from this but it doesn't take away from the culture within the ranks of intolerance. The pseudo-apologies appear to be a quick fix to deep-rooted issues in the Republican Party in hopes that it will soon pass and be forgotten.
The implications here are big: The Republican Party, knowing it needs to win over Latinos and other minorities in order to become competitive again, launched a big push to do so in six states. And, within a month, the guy they asked to head up a major part of that job quit not just the post but the whole party because of its intolerance. Adding insult to injury, he switched over to the Democratic Party and made a contribution to the ACLU, "for the efforts in helping protect the rights of immigrants and civil liberties in general."
Richwine, meanwhile, has no regrets.