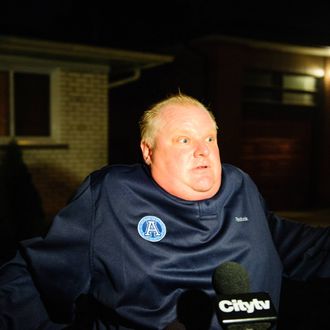 Photo: Victor Biro / Demotix/Corbis
A day after Toronto Mayor Rob Ford carefully denied that he currently uses crack cocaine, Toronto's Globe and Mail released a long investigation into his family's extensive history with drug dealing and other assorted illicitness. Though Ford only recently became famous outside of Canada because reporters for both Gawker and the Toronto Star say they have seen a cellphone video of him smoking crack, the Canadians have long been interested in the mayor's generally horrible behavior, so The Globe and Mail began working on this story eighteen months ago. After dozens of interviews, one of the main allegations Globe and Mail journalists Greg McArthur and Shannon Kari uncovered is that Ford's 48-year-old brother Doug — a current city councilman, de facto spokesman, and close adviser — used to sell a lot of hash.
Here's one former dealer's description of Doug's position in the suburban Toronto drug scene during the eighties: "Most people didn't approach Doug looking for product. You went to the guys that he supplied. Because if Doug didn't know you and trust you, he wouldn't even roll down his window." Several others backed up the claim, saying that Doug sold "substantial" amounts of hash out of a mall parking lot near the family's home:
"If [Doug] wasn't going out, someone would go down to the house and pick it up and bring it down to the Royal York Plaza," said "Sheila," adding that she was an RY Drifter who bought small quantities of hash from Mr. Ford, and knew him to supply street-level dealers. "If Doug wasn't around, people … would sell it for him. It was an operation." The quantities that Mr. Ford handled were, at times, substantial. "Michael" said he remembered buying hash from Doug Ford at least half a dozen times – before he found a cheaper source – and that each time he bought between one-quarter and one-half of a pound. He said that a quarter-pound sold for between $400 and $425.
Ford's other brother, Randy, also sold hash. A source recalled that a then 24-year-old Randy and two other men beat him and held him captive for ten hours over a debt. This was confirmed by police records, as well as one of the men involved in the incident. Another former associate said Doug was careful to keep his business separate from Randy's because he "knew his brother was just too volatile."
Ford's older sister, Kathy, has also been romantically involved with a string of convicted drug dealers and users, one of whom — Scott MacIntyre — threatened to murder the mayor at his house in 2012. (Previously, in 2005, he sent Kathy to the hospital with a gunshot to the face.) In the eighties, Kathy's ex-husband fatally shot her boyfriend. Globe and Mail sources said the boyfriend was a white supremacist, as were many of Kathy's friends during that time.
Ford is the youngest of his siblings by five years, so it seems he missed out on some of the really wild action as a kid: "Rob Ford was not a player in the Etobicoke drug trade," the Globe and Mail states. "Several sources said they saw him around his brothers as they were doing business, but they said he didn't seem to be involved in a significant way." And obviously it's not fair to blame people for the insane things their family members do. (Really, though, we strongly suggest you read the entire wild story, because there's a lot more insanity there.) On the other hand, one doesn't need violent, drug dealing, white supremacist siblings to smoke crack on camera while running a city of 2.6 million people, which is what Rob Ford seems to have done.