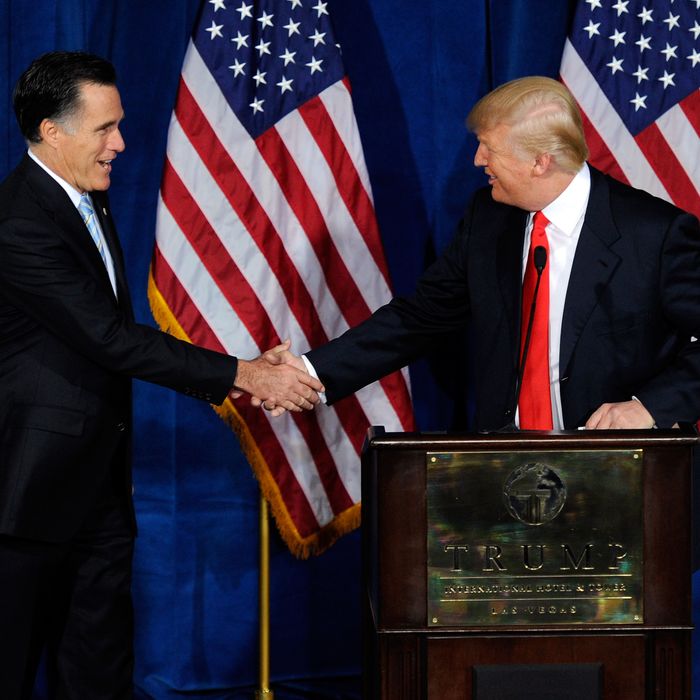 Without this political masterstroke, Romney would never have carried the deranged reactionary plutocrat vote.
Photo: Ethan Miller/2012 Getty Images
Mitt Romney was probably going to lose last year regardless of what he did, but he did make some puzzling moves, such as appearing with Donald Trump to accept a high-profile endorsement. Today Romney strategist Stuart Stevens told National Review this move did not hurt Romney at all, because there was no chance Romney could ever top Trump's popularity:
>
"I think people that don't like Donald Trump aren't going to vote for Mitt Romney," Stevens added. "He did it in Las Vegas. He's very popular in Las Vegas. The guy's on television for a reason. People like him."
You hear that? He's on television. They don't just go putting maniacs on television because they stir up attention or anything. Television executives are going to make sure a majority of voters approve of you and your political ideas before they let you on the air.
For what it's worth, a 2011 poll found that 65 percent of Americans would never even consider voting for Trump. (The comparable figure for Romney was 45 percent.) Another 2011 poll, which found Obama beating Ronney by six points in a head-to-head matchup, had him walloping Trump by 28 percentage points. A more recent poll found that Trump is two percentage points more popular than Congress, which sounds kind of encouraging, except that the same poll found that "cockroaches" are also two percentage points more popular than Congress, and Genghis Khan is a whopping four percentage points more popular than Congress. A Trump–Genghis Khan general election race would have been close and exciting.