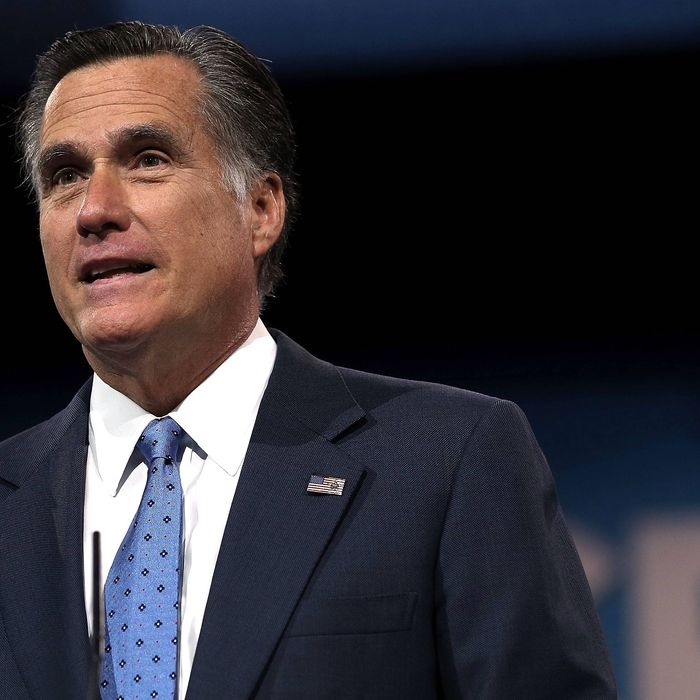 "Did I tell you guys the one about taxes yet? No!?!"
Photo: Alex Wong/Getty Images
Mitt Romney has taken one of his intermittent breaks from private family life to criticize President Obama to The Wall Street Journal. His main critique is that President Obama's second first 100 days — that is, the first 100 days of Obama's second term — were waaay less special than Romney's first 100 days would have been.
Even more disappointing than the controversies has been the lack of any clear agenda in the first 100 days. A person running for president who is not an incumbent puts together a transition team. And I did that. President Obama did that in his 2008 campaign. We had several hundred people who were working on a voluntary basis laying out what my agenda would be in the first 100 days: legislation filed, regulations rewritten, executive orders rewritten. And so forth. All of this designed to jumpstart the economy, get us more globally competitive, and help the middle class. We were thinking, gosh, we have 100 days to really get the ball rolling. So I presumed the president would have the same kind of effort under way.

And yet the only thing that has come forward has been immigration reform, which is very important, and that has been done entirely by the Senate.

We are now over 100 days, and we have yet to see any particular agenda. That is my view, that the extraordinary disappointment of the president's second term is where the opportunity was greatest, he has proposed the least. He continues to campaign as if there is another election, and there isn't.
Romney's comparison here is kind of bizarre. Of course Romney's first 100 days would have seen a flurry of proposals and actions. That's what happens when presidents first take office — because, you know, they haven't been president yet. It's like dating someone new who hasn't heard any of your stories. Oh man, you have so many awesome stories to tell them. 
But why would anything similar be expected for Obama's second first 100 days? He has been filing legislation, rewriting regulations, and issuing executive orders for four years already. And nothing changed between the end of his first term and the start of his second term that would spur an outburst of new initiatives. The Senate is still held by Democrats, the House still controlled by Republicans. The GOP is still adamant on blocking 99 percent of Obama's agenda. There is still an extremely small overlap between legislation that could pass through the House, legislation that could pass the Senate, and legislation the president would sign.
Obama has already told us most of his stories. Sometimes he comes up with new ones, but not as often as when we first met. Sometimes he repeats his stories, and we just zone out and nod politely. 
One thing that has changed, as Romney notes, is that Republicans are finally (somewhat) eager to strike a deal on immigration reform following Romney's well-documented shellacking with Hispanic voters. So that's one thing. But, really, Obama's second first 100 days are just his 1,462nd through 1,561st days, and there's nothing special about them.