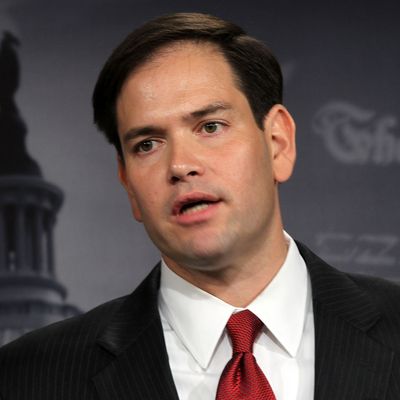 Photo: Alex Wong/2011 Getty Images
Pretty much everybody agrees that the Internal Revenue Service did some terrible and potentially very dangerous things when it engaged in a one-sided investigation of right-wing abuse of tax-exempt groups engaging in political advocacy. But everybody agreeing is a problem if you're a politician looking to boldly stake out a position that separates you from the pack. So Marco Rubio has upped the ante by calling for President Obama and Treasury Secretary Jack Lew to demand the resignation of the IRS commissioner:
Furthermore, it is clear the IRS cannot operate with even a shred of the American people's confidence under the current leadership. Therefore, I strongly urge that you and President Obama demand the IRS Commissioner's resignation, effectively immediately. 
Bold! But problematic. The first problem here is that there's no evidence that misconduct reached to the level of the commissioner. Indeed, what we know so far suggests that as mid-level management heard about the probe, it put a stop to it:
The head of the division on tax-exempt organizations, Lois Lerner, was briefed on the effort in June 2011, seemingly contradicting her assertion on Friday that she learned of the effort from news reports. But the audit shows that she seemed to work hard to rein in the focus on conservatives and change it to a look at any political advocacy group of any stripe. …

On Feb. 29, 2012, just as a rash of news articles began publicizing complaints of harassment from Tea Party applicants, Ms. Lerner ordered the Cincinnati unit to stop issuing requests for additional information from the groups, the beginning of an extended process of pulling back the scrutiny.
It's possible new revelations will show the trouble extended further up the food chain. Or maybe Rubio thinks that the head of an organization must take responsibility for any misconduct by anybody in it, even subordinates, and even when they stopped it. This still leaves us with a second problem: The IRS commissioner from that period is already gone.
The IRS commissioner during the probe was Donald Shulman, a holdover from the Bush administration. He left his job last November. There's an acting commissioner right now, but he assumed his acting role well after the Cincinnati probe ended. The position of IRS commissioner is vacant, which may explain why Rubio's letter calls for "the IRS Commissioner's resignation" but doesn't name whom Rubio wants to resign. Does he want the acting commissioner to resign? The old commissioner to re-resign? Appoint a new commissioner and then force that person to immediately resign?