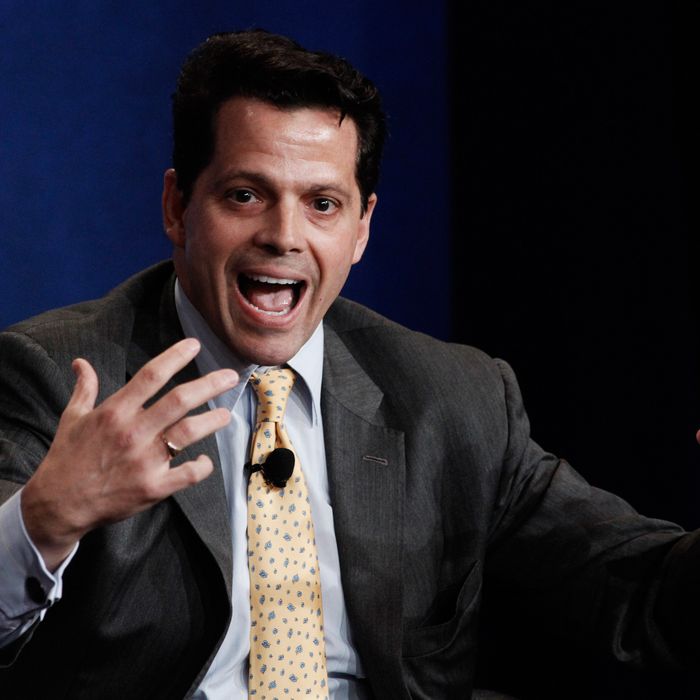 The Mooch in action.
Photo: Jonathan Alcorn/Bloomberg via Getty Images
Last night, by the pool at the Bellagio, Anthony "The Mooch" Scaramucci threw a party that would have put Jay Gatsby to shame. At SALT, the annual Las Vegas hedge-fund conference he runs, Scaramucci took the stage and welcomed hundreds of his fellow hedgies to a Cinco de Mayo–themed shindig that included feather-clad dancing showgirls, a tarot-card reader and cigar-rolling station, Kobe beef mini-tacos, an open bar, and shrimp and mango ceviche shooters — all courtesy of his fund-of-funds firm, SkyBridge Capital, and SALT's many other sponsors.
"Ladies and gentlemen … er, more gentlemen than ladies!" Scaramucci said. "Welcome to SALT 2013!"
Scaramucci, a back-slapping Long Island native with good hair and a larger-than-life persona, is Wall Street's premiere schmoozer. He has turned SALT from a no-name affair into the biggest event on the hedge-fund calendar, largely on the back of his world-class Rolodex and his eye for spectacle and self-promotion. Former presidents, foreign heads of state, Hollywood A-listers like Al Pacino, money men like Dan Loeb — all show up at SALT to kiss Scaramucci's big gold ring. The Times called him "a P.T. Barnum in a Ferragamo tie."
Not everyone likes Scaramucci. Reuters blogger Felix Salmon called him "sleazy" and a "popinjay" in a blog post that sparked a long-running feud between the two men. But here at SALT, the love for Scaramucci is near-universal — everyone wants a piece of the Mooch. (During a ten-minute interview, we were interrupted by four different sets of people who wanted to thank him for his help or wish him well with the conference.)
We asked Scaramucci how he has mastered the fine art of schmoozing and how he's made SALT the jewel of the hedge-fund conference circuit. Here's what he said.
Take care of the little stuff.
When we caught up with Scaramucci, he was just finalizing the seating chart for a VIP dinner whose guest list includes hedge-fund manager Leon Cooperman, film director Oliver Stone, real-estate tycoon Sam Zell, former senator Scott Brown, and Matt Bissonnette, the former Seal Team Six member who wrote No Easy Day. "Okay, so put Cooperman on the left, Stone on my right," Scaramucci told an aide. "Then … Sam Zell next on the left, and Scott Brown and his wife next to Bissonnette."
Always be on.
"Like it or not, we're in the world of the public figure," Scaramucci says. "Everybody's a public figure. When I teach at Columbia or NYU, I ask kids, 'Raise your hands, are you a public figure?' And nobody raises their hands. Then I say, 'Raise your hand if you have a Facebook or a Twitter page. Raise your hand if you have a hundred friends on Facebook or Twitter.' And 98 percent of 'em raise their hands. So I say, 'I got news for you, ladies and gentlemen, you're all public figures.'"
Don't be snarky.
"The problem is," Scaramucci says, "snarky gets readership, but it closes your circle of accessibility. Like, Felix Salmon, he gets readership. But he's universally hated. I think even his wife hates him. If you're not snarky, you get a wide circle of accessibility."
Don't front.
"Be real. Be real. Come on," Scaramucci says. "I told people in my first book that I failed the bar exam twice. I told people I got my ass fired from Goldman Sachs at the age of 27. I'm fuckin' real! I'm not afraid to express whatever my personal vulnerabilities are. You tell me the perfect life story, I'll identify the liar."
Open your ears.
"You have to dial into the conversation," Scaramucci says. "And listen — if you're not listening, you can't communicate, and you can't message."
Study the masters.
"I took Dale Carnegie's course in 1988," Scaramucci says. "My favorite Dale Carnegie book is How to Stop Worrying and Start Living. I give that to all the teenagers. That's the book that changed me."
Stick by people when they're down.
Scaramucci has developed a reputation for being a defender of unpopular finance titans. Last year on SALT's stage, he interviewed embattled hedge-fund manager Steve Cohen (whom he also defended in a Vanity Fair profile); this year, he pitched softballs to money-losing manager John Paulson. Scaramucci makes no apologies for sticking by his friends, even when they're in trouble.
"I don't run from a fight," he says. "When you're in the trench, you want people who will run towards the bullets, not away from them."
Be a friendly interviewer.
"You saw the Loeb interview," he says, referring to his Thursday tête-à-tête with hedge-fund manager Dan Loeb. "Am I gutting the guy? Am I trying to make the interview about me? No, I'm trying to reflect who Dan Loeb is to the audience."
Nice guys finish first.
"The ad hominem attack — I've eliminated that from my repertoire," Scaramucci says. "Why do we have to mud-sling? Why do we have to snarkify relationships?"
Later, when talking about the growth of SALT, Scaramucci attributes the conference's success in part to his own gregariousness: "The number one thing is," he says. "This is an old-line Italian expression: The fish stinks from the head down. You have to be an inclusive person. You have to be willing to accept people for who they are."