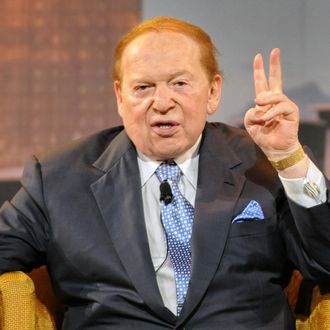 Peace out, plaintiff.
Photo: Roslan Rahman/AFP/Getty Images
Though he's generally on the plaintiff end, Sheldon Adelson is no stranger to lawsuits. But a Las Vegas court turned the tables on the billionaire when it awarded Hong Kong businessman Richard Suen $70 million of Adelson's money Thursday for his role in helping secure the gambling license necessary to launch Adelson's Las Vegas Sands empire in Macau, the Los Angeles Times reports.  Suen claims he spent $328 million lobbying Chinese officials and now that Adelson has four different resorts on the former Philippine island, he'd like some of that money back.
The two men have met over this dispute in court before with Suen awarded $58.6 million in 2008, just before a Nevada Supreme Court threw out the case on appeal. This time around, you can bet Adelson's lawyers are planning the same approach. "We believe there are compelling and sufficient grounds on which to appeal this verdict, and we will do so aggressively," a spokesman for Adelson's company said, speaking of the bit where Sands attorney J. Stephen Peek claimed he'd heard a juror reveal that she was prejudiced against his client.
With a current reported wealth reaching $26 billion, Adelson really has all the resources he could ever want to keep this thing in court, even after all those donations he made to the GOP.