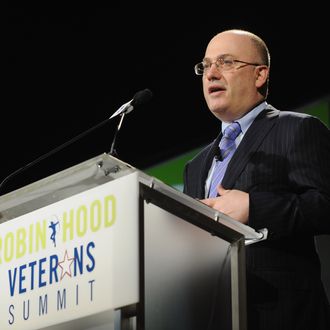 Less money, fewer problems?
Photo: Craig Barritt/Getty Images
SAC Capital billionaire, art-collecting Greenwichian, and stubbornly evasive law-enforcement target Steven A. Cohen has been under investigation for insider trading for five years. Five years! That's a long time. Theoretically, you could have been so distraught by the first news report that Cohen was being probed for dirty dealing that you conceived a stress baby, had it, and raised it. That child would be in pre-K now.
In fact, Cohen has been battling the law for so long that he's thinking of just giving up. According to Bloomberg, the hedge-fund impresario is "considering proposing a deal to prosecutors that would shut his $15 billion hedge-fund firm to outside investors." The deal, a deferred prosecution agreement, would require SAC Capital to admit wrongdoing but would shield the firm from charges, unless it breaks the law again.
Of course, Cohen may not have any choice but to shut SAC and turn away outside investors. Because those investors are fleeing anyway. Today, DealBook reports that the "highly agitated" fund is "bracing itself for another round of withdrawal requests from investors," including the Blackstone Group, which is considering pulling out several hundred million dollars.
SAC still has about $6 billion in outside money (as compared to $9 billion of Cohen's own moolah), so it's fine for the moment. But you sort of can't blame Cohen for wanting to put the investigation behind him. After five years of being chased like Al Capone, an immunized Cohen might finally be able to stop looking over his shoulder.