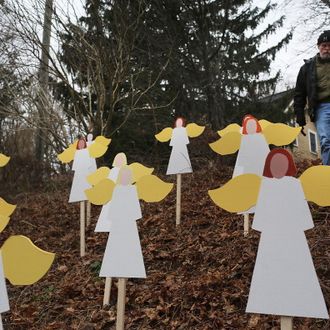 Photo: Spencer Platt/Getty Images
The question of what to do with Sandy Hook Elementary school has been floating around since the dust settled on the horrific December shooting that left twenty of its students and six of its staff dead. On Friday, the 28-member panel assigned with addressing the issue back in January voted unanimously to tear down the building and replace it with a new school on the site. The facility is projected to cost between between $42 and $47 million and would be open in 2016. Until then, students will continue to go to the former Chalk Hill Middle School in Monroe. 
While not everyone will be pleased with the outcome — task force member Laura Roche said, "No matter what we do, it will hurt people." — The New Times reported that at the end of the deliberations, the standing-room-only crowd broke into applause, thanking the task force for its work. Parent Steven Uhde said that building a new school there would exemplify the town's message of "We choose love." "[Adam Lanza] didn't hate those people — he didn't even know them. It was an attack on the school."
Fellow member E. Patricia Llodra, also a first selectman of Newtown, is very proud of the team's work. "I think that decision was very necessary in order to help our community heal. Not knowing the future creates its own anxiety. And we need to get over that hump," she told The Wall Street Journal about the team agreeing not to live in limbo any longer, logistically or emotionally. The panel's plan will now have to be approved by the Board of Education before it can become a town referendum.