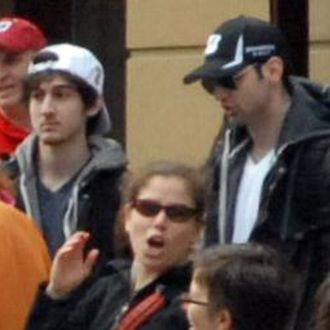 In a surprising twist in the ongoing investigation of the Boston Marathon bombing, three "additional suspects" are in custody, Boston police announced today. According to the Globe, the suspects are college students who allegedly "helped" Dzhokhar Tsarnaev, who attended the University of Massachusetts Dartmouth, after the attack. CBS reports that they will face federal charges for aiding and harboring the living bomber. We'll update as more information becomes available.
Update, 11:50 a.m.: CBS has named two of the suspects as Azamat Tazhayakov and Dias Kadyrbayev (pictured below with Dzhokhar in Times Square), fellow U Mass students originally from Kazakhstan, who are not United States citizens. "They have been held in a county jail for more than a week on allegations that they violated their student visas while attending UMass-Dartmouth with Dzhokhar Tsarnaev," the report adds. The third suspect, not yet named, is reportedly an American citizen and was arrested today.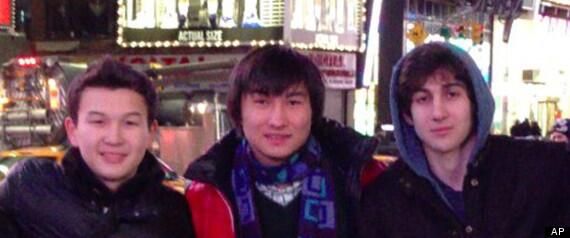 A lawyer for Kadyrbayev denied his client had any connection to the bombings last week, after the pair were detained April 20 and questioned by the FBI. "These kids are just as shocked and horrified about what happened as everyone else," Robert Stahl told the Associated Press. "They can't even fathom something like this from a kid who seemed to be a typical young college student."
As for the souvenir license plate on Kadyrbayev's car that reads "Terrorista #1," pictured on Dzhokhar's Twitter feed, "It's such a silly thing. Bad timing," said Stahl, who said it was a reference to partying. (The AP, citing a U Mass chancellor, also said Kadyrbayev has not been enrolled at the school since fall.)
"Please be advised that there is not threat to public safety," the Boston Police Department said in a statement. "Three additional suspects have been taken into custody in connection to the attack on the Boston Marathon. Aside from the aforementioned, there is no additional info to release at this time. Additional details will be provided when they become available."
Update, 12:18 p.m.: "Two federal law enforcement officials, speaking on condition of anonymity to discuss an ongoing inquiry, said the three disposed of material at a Boston area landfill at the request of Dzhokhar Tsarnaev following the bombings," the Washington Post reports.
Investigators said last week they were searching a New Bedford landfill, where they believed Dzhokhar's computer may have been trashed. (The AP reported that Tazhayakov and Kadyrbayev lived in an off-campus apartment in New Bedford.)
Reuters adds, "Authorities investigating if classmates threw away some kind of knapsack at request of Boston Marathon bombing suspect Tsarnaev."
Update, 1:58 p.m.: The U.S. Attorney office in Massachusetts tweeted that the three men are due in court at 3:30 p.m. to face conspiring to obstruct justice and false statements charges.
Update, 2:35 p.m.: In an affidavit alleging Tazhayakov and Kadyrbayev of a conspiracy to obstruct justice, the FBI says the pair is guilty of "knowingly destroying, concealing, and covering up tangible objects belonging to Tsarnaev, name, a laptop computer and a backpack containing fireworks, with the intent to impede, obstruct, and influence the criminal investigation of the Marathon bombings."
Tazhayakov and Kadyrbayev, the FBI claims, "have admitted that they agreed to get rid of [the backpack] after concluding from news reports that Tsarnaev was one of the Boston Marathon bombers," in hopes of helping him "avoid trouble."
The third suspect, identified as Robel Philliops, "knowingly and willfully made materially false statements … during a terrorism investigation," the complaint charges.
In the craziest part of the affidavit, the FBI states: "According to Kadyrbayev, while he was driving home from Boston he spoke on the telephone with Phillipos. Phillipos told Kadyrbayev to put the news on when he got home because one of the suspects looked like Tsarnaev. Kadyrbayev then texted Tsarnaev and told him that he looked like the suspect on television. Tsarnaev's return text contained 'lol' and other things Kadyrbayev interpreted as jokes such as 'you better not text me' and 'come to my room and take whatever you want.'"
The full complaint is here.