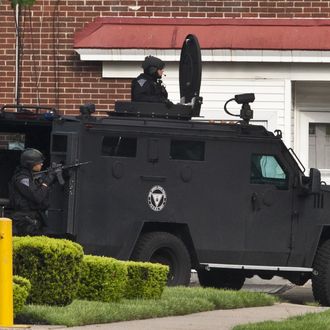 SWAT team officers were stationed outside the house.
Photo: VIEWpress Corp. / Demotix/Copyright 2013 Demotix, all rights reserved.
The hostage situation in Trenton came to an end at shortly before 5 a.m. on Sunday, when officers stormed a house near the Delaware River where four children were being held by Gerald "Skip" Murphy. The New Jersey police department's Rick Fuentes told CBS News that officers remained in contact with Murphy during the 37-hour standoff, even passing food through the upstairs window where he could be seen holding a black handgun. They decided to go in when they determined that Murphy's state of mind was "deteriorating." Once inside, an officer shot Murphy, who the police say was threatening one of the kids. Murphy later died of his injuries at a nearby hospital.
The children's mother, who was found inside the home "in an advanced state of decomposition," was in fact 44-year-old Carmelita Stevens; initial reports said her name was Carmen Kelly. Her 13-year-old son was also found dead in a separate bedroom. Stevens's other kids — an 18-year-old girl, a 16-year-old girl, and a 4-year-old boy — were recovered and are currently being treated for injuries. Meanwhile, Stevens's 19-year-old son, who had first been reported as safe and staying with family, was also rescued from the basement of the home. He told police he hadn't seen his mother or siblings "since about April 24." Since an investigation is pending, authorities are not commenting on possible motives or releasing the victims' official cause of death.
Bocchini confirmed that Murphy was a registered sex offender with a long rap sheet, including convictions for aggravated assault and criminal conspiracy. He'd also been previously arrested for robbery, weapons offenses, child endangerment, and is wanted in Pennsylvania for failing to register as a sex offender.
*An earlier version of this headline falsely read, "Four Children Rescued." Only three children were rescued; one was found dead, and another was safe with his family.