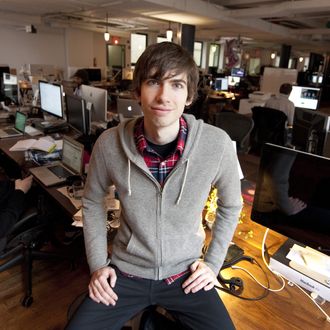 So rich.
Photo: DON EMMERT/AFP/Getty Images
David "Fuck Yeah" Karp is 26 years old and just sold his company to Yahoo! for $1.1 billion in cash, a massive chunk of which goes straight into the pockets of his skinny jeans. And yet, "WHO'S THIS YAHOO!" asked the cover of the Daily News this morning, along with a goofy photo of the blue-eyed tech boy-king. "City HS DROPOUT sells startup site to Web giant for $1.1B." If, like most of the world, which does not fetishize its local nerds, this is the first you're hearing of the guy, allow us to catch you up on his perfectly precious rise into the realm of Mark Zuckerberg status. There is a Vespa involved.
1.
Karp grew up on the Upper West Side, and after dropping out of Bronx Science at 15 to be home-schooled, he served as the chief technology officer of UrbanBaby, the gloriously addictive digital playground of the city's overprotective mothers. He was 17, which the company did not know at first, and worked for months from Tokyo. (He cashed out for the first time when CNET bought the site in 2006.)
2.
He has been described as precocious: "reading HTML for Dummies at 11; internet consulting by 14; launching the famed blogging platform before he could drink." A family friend, Fred Seibert of MTV and Hanna-Barbera, pushed him into engineering.
3.
He made his first $750,000 on investments in Tumblr, the micro-blogging site he created in 2007, at the age of 21.
4.
Karp quoted the New York Observer's physical description of him — "Mr. Karp is tall and skinny, with unflinching blue eyes and a mop of brown hair. He speaks incredibly fast and in complete paragraphs" — on his personal blog (a Tumblr, duh).
5.
He is six-foot-one and skinny — without working out.
6.
His father, Michael Karp, is an Emmy-winning television composer who worked on The Price Is Right. His mother, Barbara Ackerman, was a teacher.
7.
Karp also created WorldwideFido.com, "a YouTube for dogs," which no longer exists.
8.
As a young white man, he has wrestled with many questions about identity, such as "Can I use the word 'nigga' if I'm quoting a song?"
9.
Although it was published under his name, Karp did not write the awkward public memo about firing people that earned him derision from no less than The New Yorker.
10.
His starter family includes girlfriend Rachel Eakley, a graduate student in psychology, and Clark, a French-English bulldog mix. They "usually scoot" to brunch on the weekends "because we like to have the Vespa out." 
11.
The trio moved last year from the West Village to a $1.6 million, 1,700-square-foot duplex in Williamsburg.
12.
Other than that, Karp is humble, keeping "virtually nothing … A spartan bedroom with a half-empty closet. A living room area with nothing but a sofa and a TV. (One concession to opulence: a restaurant-grade kitchen for his girlfriend, Rachel Eakley, a trained chef.)" Maybe now he can splurge on a decorator.