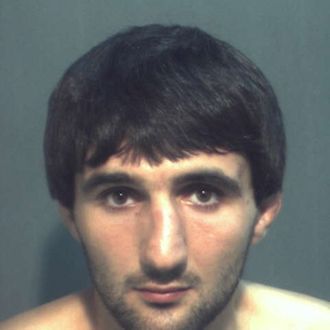 A day after a civil rights group called for an investigation into why the FBI fatally shot Ibragim Todashev while interrogating him last week, government officials have offered another version of events that paints Todashev as a crazed man who injured an FBI agent, rather than an unarmed suspect inexplicably killed moments before signing a confession. Now sources say that Todashev suddenly threw a table at an FBI agent, ran at him with some pole-like object (not a knife or samurai sword as initially reported), and kept coming at the agent even after he was shot several times.
Authorities interviewed Todashev, who knew Tamerlan Tsarnaev, several times last week about the Boston bombing and a 2011 triple murder in Waltham, Massachusetts. At a press conference in Moscow on Thursday, Todashev's father said he was being questioned in his Orlando home on May 22 because he refused to report to a government building for a third round of questioning. Supposedly, after being interrogated for several hours, Todashev was about to sign a confession implicating himself and Tsarnaev in the murders, but minutes later he had been shot dead.
On Thursday a government source (or sources) spoke with the New York Times, USA Today, and CBS Boston, and each outlet has slightly details about the incident. The new story is that an FBI agent, two Massachusetts State Troopers, and an Orlando police officer were at the condo. When Todashev said he was ready to confess, one of the troopers left to make a phone call and the Orlando officer went with him. The trooper who remained in the room noticed Todashev was becoming agitated and texted the FBI agent so Todashev wouldn't know what they were saying. When the agent looked down to read the message, Todashev threw the wooden table, knocking him into the wall. The agent suffered a wound to his face that required stitches. As he tried to stand, Todashev lunged at him with a metal pole. (According to the Times, the source said "it might have been a broomstick," but USA Today reports it was "a metal pole about the size of a broom handle.") The agent shot Todashev two or three times, knocking him back, but he charged again. The agent opened fire again, killing Todashev.
Like other members of Todashev's family, his father insisted his son was unarmed and questioned the FBI's version of events. "I want justice," he said. "I want this to be investigated, so that these people will be put on trial in America. These are not F.B.I. agents, they are bandits. They must be put on trial."