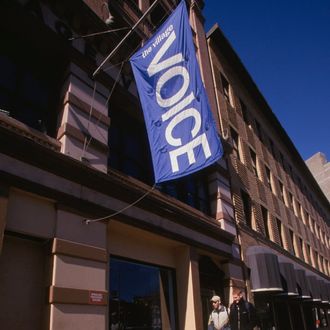 Editor-in-chief Will Bourne, hired in November, and deputy Jessica Lustig, who started in January, both walked out of the Village Voice this morning, in the middle of making the week's paper, rather than be forced to lay off more staffers. Voice Media Group, which owns the zombie alt-weekly (where I used to work), reportedly demanded that Bourne slice five positions out of the twenty that remain and somehow still make a publication. "When I was brought in here, I was explicitly told that the bloodletting had come to an end," Bourne explained to the New York Times. "I have enormous respect for the staff here and the work they have been doing and I am not going to preside over further layoffs."
When Bourne took the position, Washington Post media critic Erik Wemple, who almost took the editor spot at the Voice himself at one point, told us, "The only way to go is to appreciate the resources you still have, not bemoan the resources that the paper once had." But what the Voice still has, at this point, continues to shrink, even after the paper had layoffs, lost its editor, and was spun off last year.
At the moment, it's unclear whether the company will proceed with the planned cuts after losing what were presumably two substantial salaries. Either way, according to one of the few remaining writers there, "Entire Voice editorial staff drinking at McSorrley's — we don't usually drink this early in the day!"
Update: Gawker hears that legendary gossip columnist Michael Musto might be among those staffers on the chopping block.
"Voice Media Group today accepted the resignations of editors Will Bourne and Jessica Lustig," the company said in a statement. "Following their departure, VMG will be instituting further structural and staffing changes at the publication. Contrary to published reports, those changes do not involve laying off five members of the editorial staff."
"The proposed changes do include minimal staff reductions, and directly align with the long-term growth strategy of Voice Media Group. They will ultimately support the ongoing sustainability of the Village Voice." Pete Kotz, who used to run* the company's True Crime Report, will be in charge in the interim.
*Correction: Kotz is no longer the editor of True Crime Report, as previously stated.