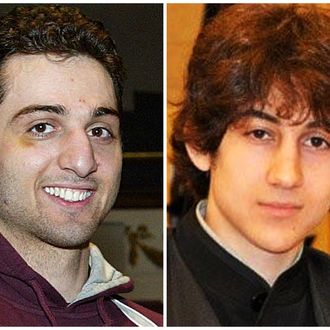 Dzhokhar and Tamerlan Tsarnaev were typical siblings in that they sometimes got along and sometimes didn't. But since the brothers made the atypical decision to bomb the Boston Marathon, the nature of their ups and downs is getting a lot of attention from investigators and lawyers — not to mention the public. In a New York Times profile of Dzhokhar, two of the 19-year-old's longtime friends and fellow Chechens, Baudy Mazaev and Junes Umarov, spoke about what they saw of the Tsarnaevs' relationship.
Mazaev said Dzhokhar was initially "irritated" by his older brother's increased devotion to Islam when it began a few years ago. He explained that he and Dzhokhar stopped hanging out together at the Tsarnaev family's Cambridge apartment after Tamerlan demanded that the two teenagers sit and study books about religion and prayer. "[Dzhokhar would] say: 'Let's not go to my house. Tamerlan will just make us read. And he was a big dude, so we kind of had to listen to him," Mazaev said. Once, when Dzhokhar was at home with his brother, he sent Mazaev a text reading, "Come back. Don't make me suffer alone." Another pal, 18-year-old Junes Umarov recalled, "Every time we went to Dzhokhar's house, his brother would make us work, do a bunch of push-ups, get us in shape, because we were staying inside playing video games all day."
However, both friends also said Dzhokhar showed a deep devotion to Tamerlan, desperate text messages and enforced exercise aside. "I know he respected him as the elder, especially once his father went to Russia," said Mazaev. "He was his older brother and the only male of the house, so he was more dependent on him." Similarly, Umarov said his friend "looked up to his brother" because he "never gave him wrong advice." The Times piece also notes that Dzhokhar generally avoided talking about his family, so it's hard to know whether Mazaev and Umarov's interpretations of the brothers' dynamic are correct. However, if it turns out that Tamerlan did, in fact, mastermind the bombing, then we do know that Dzhokhar's definition of good advice was very flawed.