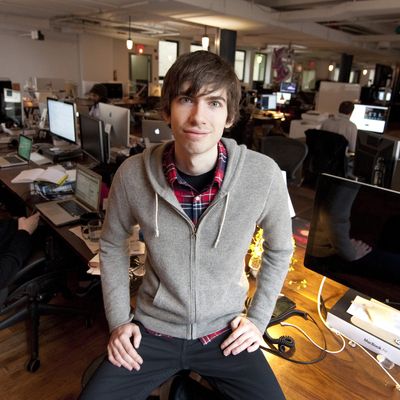 David Karp, who seems to have only one outfit.
Photo: DON EMMERT/AFP/Getty Images
Yahoo CEO Marissa Mayer was, for once, not the main attraction at a high-profile tech launch. On Monday night, at a packed lounge atop the Times Square Renaissance hotel, that honor fell to David Karp, the spindly 26-year-old CEO of Tumblr, which had been acquired by Mayer's Yahoo for $1.1 billion just six or seven hours earlier. Reporters flocked to Karp, who is estimated to have made $250 million off the deal, and asked him what he was planning to do with his newfound riches.
"At some point I'm going to have to learn about philanthropy," he said, looking a bit bewildered.

Nominally, the Yahoo event — which featured a DJ, passed hors d'oeuvres, and a phalanx of Yahooligans in purple shirts — was supposed to be about Flickr, Yahoo's photo service, which got a redesign and a bunch of features upgrades. But the main event was the Tumblr deal, which boosted Karp to overnight stardom, and made New York-based Tumblr the highest-profile tech acquisition of the year.
"Hopefully it's a moment for New York," Karp said of the deal. Dressed in a plaid shirt with a gray Tumblr hoodie on top, Karp said that he hoped his success would boost up the city's efforts to become a tech hub to rival Silicon Valley. "It really feels that way," he said, "getting to hang out with the Mayor this week, getting to hang out with so many in the government and our community. We now have resources to pull more talent out of the Valley."
Unlike Nick D'Aloisio, the founder of Summly, who sold his app to Yahoo for $30 million earlier this year, Tumblr's Karp is not an overnight millionaire. He's been a fixture of the New York tech scene for nearly a decade, and has been slowly cashing out his stake in Tumblr as its valuation has risen. But the lump sum he'll collect as the result of his Yahoo buyout will turn him from a workaday millionaire into a boy king. At the event, a Yahoo spokeswoman stood at his side, keeping tabs on the armada of reporters pressing in to ask him how, exactly, it felt to be rich and famous.
Karp plans to function as a sort of autonomous region within Yahoo. His team won't move into Yahoo's new headquarters, which will be in the old New York Times building on 43rd Street. And he said he hoped to keep Tumblr's focus "honest and sincere," even as it gets co-opted into the Yahoo machine. (For her part, Mayer said at the event that she didn't "intend to" remove any of Tumblr's adult content once the acquisition closes, a question that had risen among Tumblr users.)
Karp told Daily Intelligencer he had been trying to stay focused in a whirlwind. He said that being at the white-hot center of the news cycle for the day had resulted in a massive influx of congratulatory notes from family, friends — even his childhood karate sensei.
"Everybody I've ever met in my life," he said with a laugh. "I've been joking that this is the week I'm going to sort out my LinkedIn situation."
Karp, who has had a Yahoo e-mail address "for ages" (though he doesn't currently use it), said he hadn't had a chance to celebrate his mega-deal yet. His girlfriend, Rachel Eakley, a psychology grad student, is traveling on her school break, and has been "cheering from afar." But surrounded by his new colleagues and a throng of eager supporters, Karp looked anything but lonely.
"It's okay," he said of his girlfriend's out-of-town travels. "I haven't been getting much sleep for the last week. I wouldn't have been much of a companion anyway."