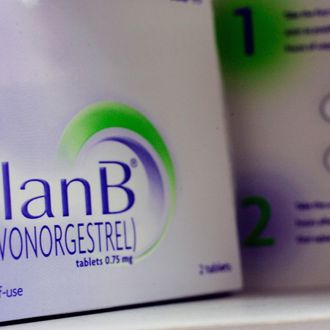 Photo: Joe Raedle/Getty Images2006 Getty Images
When the FDA announced Tuesday that girls 15 and older can buy the "morning-after" contraception pill without a prescription, lowering the age from 17 and making the pills available outside pharmacy hours, it didn't mention a ruling earlier this month ordering that the medication be made available to everyone. But less than 24 hours later the Department of Justice did, when it appealed U.S. District Judge Edward Korman's decision. The government argues that Korman exceeded his authority, the Associated Press reports. "This is not a political decision," a Justice Department official insisted. "It's not had White House intervention or involvement. This in our judgment is the right legal step to take in this case." However, it's impossible to ignore the political implications of the move for the Obama administration.
The decision to appeal the ruling raised the ire of reproductive rights groups such as Planned Parenthood and the Center for Reproductive Rights, which said it was "deeply disappointed." But it fell in line with the wishes of anti-abortion groups, which had urged the administration to keep controls on the morning-after pill in place.
Those same groups were already fuming over the FDA decision to ease restrictions on the drug. "The FDA is recklessly positioning itself as a parent to our children," Marjorie Dannenfelser, president of the Susan B. Anthony List, told NBC News. She said in a statement on Wednesday that her group "agreed with the administration's decision to appeal Judge Korman's ruling." So Obama, who the New York Times notes "enthusiastically supported" Health and Human Services Secretary Kathleen Sebelius's December 2011 refusal to allow Plan B One Step to be sold universally, comes out looking like a moderate, and may avoid another battle over abortion rights.