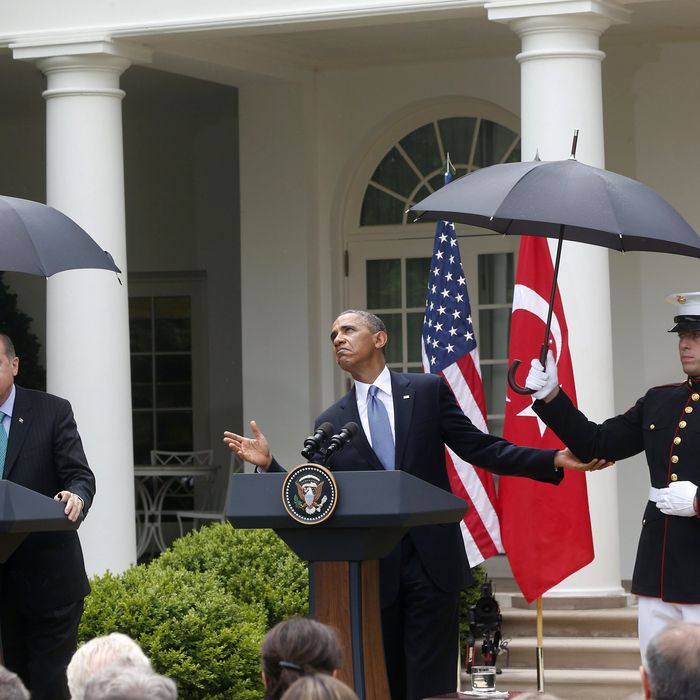 Plus the whole not holding your own umbrella episode, which could very well be a crime.
Photo: Charles Dharapak/AP
The wackiest Republicans have been ready to impeach Obama from day one; the slightly more thoughtful members of the party are taking a wait-and-see approach. They are considering impeachment, but they aren't quite there. They are perhaps waiting for evidence that somebody in the Obama administration, at any level, broke any law at all. Then it's full go!
George F. Will, speaking on This Week, defended his claim that the Internal Revenue Service mess is kinda like Watergate:
>
in the sense it's the use of the Federal machinery to punish enemies of the administration. … I brought Watergate into this because abuse of the IRS was Second 1, Article 2, of the Articles of Impeachment of Richard Nixon.
Note Will's careful grammatical construction here. He twice refers to the IRS without naming an actor. He cites "the use of the Federal machinery" and "abuse of the IRS" without mentioning the important part, which is that Nixon was impeached for, among a gazillion other crimes, personally ordering the IRS to single out his enemies. Will cites the right article, but (as Rich Yeselson noted) doesn't mention the key first sentence: "He has, acting personally and through his subordinates and agents, endeavoured to obtain from the Internal Revenue Service … "
But Will isn't ready to impeach just yet merely because a few of the 4.5 million federal employees screwed up.
Likewise, Representative Jason Chaffetz isn't quite there on impeaching Obama over Benghazi, but he's thinking about it.
"It's a cover-up. I'm not saying impeachment is the end game, but it's a possibility, especially if they keep doing little to help us learn more."

Look for Chaffetz, the chairman of the oversight committee's subcommittee on national security, to lead the fight for accountability as the controversy — and talk of impeachment proceedings — escalates.
Note that the total evidence of wrongdoing to date is the establishment of a poorly secured intelligence outpost that came under attack. Being president while somebody in the world attacks an American government facility is not quite unique enough to qualify as an impeachable offense, but it's on the cusp. So take heart. Cooler heads are prevailing.