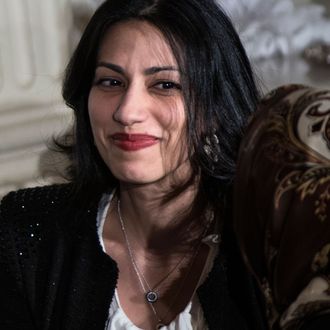 Huma Abedin.
Photo: Brendan Smialowski/AFP/Getty Images
Huma Abedin was featured prominently in Anthony Weiner's campaign announcement video, her presence suggesting that if he can convince her to forgive him, New Yorkers should give him a second chance too. However, Abedin didn't need much convincing. The New York Times reports that the longtime Clinton aide has been "a main architect of her husband's rehabilitative journey," and she's using her connections to the family to help his mayoral campaign — though they want nothing to do with him.
The Clintons made it clear this week that they will be staying out of the mayoral election, but Weiner has been hard to shake. When Chelsea Clinton visited the Rockaways after Hurricane Sandy, Abedin brought her husband along, and he reactivated his Twitter account with a post about the excursion. Just days before announcing he was interested in running for mayor, Weiner and Abedin were vacationing with the Clintons in the Dominican Republic along with Oscar de la Renta. Yet, the Clintons were reportedly not warned that they'd be mentioned 21 times in Weiner's New York Times Magazine profile. According to the paper, those close to the Clintons "can barely contain their dislike for Mr. Weiner, whom they speak of like a disapproved-of in-law, tolerated but unloved."
As one of the country's most well-known political aides, Abedin has attracted staffers to the Weiner campaign. She worked with his campaign manager, Danny Kedem, during Clinton's 2008 presidential campaign, and has wooed several other potential staffers who mainly seem interested in getting close to Clinton's right-hand woman before 2016. It's sounding more and more like Abedin, not her husband, should be running for mayor.