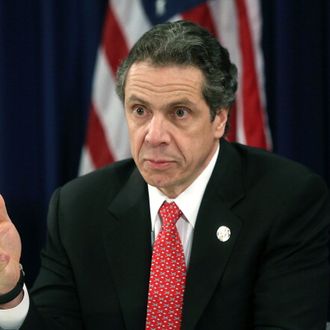 Late on Monday afternoon, Governor Andrew Cuomo snapped. He didn't do it in an epic, Frank Grimes kind of way, but per stories in the New York Times and Capital Confidential, the governor was less-than-cheerful at what should have been a triumphant press conference following his successful meeting with legislators over restructuring the Long Island Power Authority.
"Do you feel fear?" Cuomo snarled, when NY1's Zack Fink asked him about a climate of fear in Albany over federal investigations into lawmakers. "Are you afraid?" Fink said he was not, and Cuomo shot back, "I think they're afraid of you … I think you strike fear into the hearts of men and women." The press reports didn't offer much speculation as what could be bothering Cuomo, so let's examine the governor's day for things that could have gotten under his skin:
Basically, it wasn't a total disaster. Sure, Cuomo took a couple of knocks, but he got stuff done and had a chance to flog his agenda. He just seems annoyed about having to talk about "scandalmania" all day. "Do you really want to discuss this?" Cuomo retorted when asked whether the legislative session might be effectively over now. Hopefully, the governor has a couple of old Garfield books lying around the house to take the edge off his case of the Mondays.