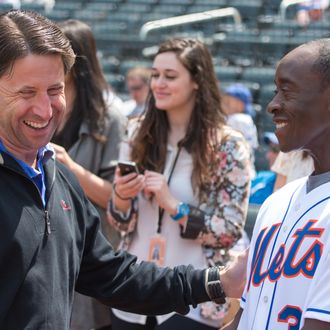 Jeff Wilpon.
Photo: Michael Stewart/Getty
Ask ten Mets fans today if their team is going to reach the World Series this season, and nine will say no. (The other will be laughing so hard you'll get tired of waiting for a response and just walk away before getting an answer.) So then how did we end up with a mini-controversy yesterday when Jeff Wilpon said as much, telling Mariano Rivera during a pregame ceremony that he wishes the Mets could see him again in the World Series, but "I'm not sure that's going to happen"?
After all, Wilpon is simply stating what anyone else in the baseball world — fan, media member, or otherwise — would say without hesitation: that it's unlikely the Mets will be participating in the 2013 World Series. And that's not unexpected: They're currently rebuilding, and the hope is that they'll be competitive at some point in the near future, as they build around guys like David Wright and Matt Harvey and introduce the likes of Zack Wheeler and Travis d'Arnaud to the major-league roster.
Wilpon's not the only sports figure to create a stir recently by saying something most people would agree with. Last week, Ottawa Senators captain Daniel Alfredsson was asked last week if his team could overcome a 3–1 series deficit to the top-seeded Pittsburgh Penguins. Said Alfredsson, in part: "Probably not." Ottawa's chances of pulling that off were better than the Mets' — the Sens would ultimately lose in five — but again, it was a true statement. No one would bat an eye if a commentator said it on TV, but it kicked off a debate within the hockey world about whether it showed a lack of faith in his own team.
So why do we want athletes (and coaches and owners) to lie to us, using whatever clichés they can to suggest that, hey, you never know? Because as sports fans, we always want to believe that our team has a chance, even when all of the evidence suggests the contrary. Hearing some talking head say otherwise on TV might not faze us, but hearing someone involved with the team say so makes it harder to keep up the illusion. We want to believe that those with the power to actually affect a season or series are so sure of themselves that they'll will themselves to victory, even if we know that probably won't happen. We want to have faith. We want to believe.
The argument against Wilpon's honesty, we suppose, is that he's saying this in May, even though the Mets will still happily take their fans' money for four more months. But it's not like the Mets are acting like 2013 could be their year. They're (smartly) behaving like a team going through a rebuilding process: It's why it made sense, for instance, to trade R.A. Dickey after a Cy Young season. Wilpon saying this in late August wouldn't have gotten much attention, because it wouldn't have been so painful to hear then. The truth hurts more after 48 games.
Of course, unlike Alfredsson — who was answering a direct question — Wilpon did have another option, besides telling the depressing truth or lying to keep spirits up: He could have just said nothing at all.