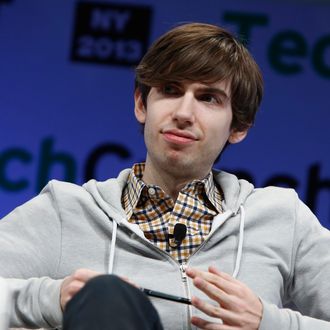 David Karp.
Photo: Brian Ach/2013 Getty Images
The Wall Street Journal reports that the rumor floated by AllThingsD's  Kara Swisher and Peter Kafka on Friday night appears to be true: Yahoo!'s board "has  approved a deal" to purchase social media and blogging platform Tumblr for $1.1 billion in cash. Though "it wasn't immediately clear" whether Tumblr's own board had also signed off on the sale, Yahoo! has scheduled "a product-related news event in New York City on Monday," so it seems that this is probably happening. It's a bold move for Yahoo!'s newish CEO Marissa Mayer, who has been working hard to restore the struggling company's former Internet glory. Mayer's apparent hope is that by buying Tumblr, she will acquire the desperately needed "cool" that comes with the site's 117 million mostly young, GIF- and meme-loving users. And what would Tumblr get out of this? Money, which is something it has never been very good at generating, despite its massive popularity. Though Tumblr has said it intends to make $100 million by the end of the year, its $13 million 2012 earnings indicate that achieving that goal is unlikely.
If the deal does go through, Tumblr's 26-year-old CEO, David Karp, will stay at Yahoo! for at least four years with a significant control over his operation, which would continue to function "largely as an independent business." He would also receive bonuses for good performance. But the question for both parties is what exactly constitutes "good performance" here.
Yahoo only has about $3 billion in cash, so the purchase will almost certainly mean cutting back on investor-pleasing things like buying back shares of its stock — or acquiring companies that are safer bets than Tumblr. (On the other hand, at least some of Yahoo!'s shareholders must share Mayer's belief in the transformative power of "cool.") Either way, Mayer will eventually have to figure out a way to monetize Tumblr. As all AllThingsD's Swisher writes, taking the most obvious-seeming avenue — advertising — might be difficult:
Tumblr resisted advertising for its formative years, and its user base seems particularly unwilling to accept standard banner ads. In addition, many industry observers think that Tumblr's pages are packed with porn and/or other questionable content that would scare off advertisers. But within the last year or so, Tumblr has started selling modestly sized "native ads" promoting brands' Tumblr pages, on users' "dashboards," which has shown promise.
Meanwhile, TechCrunch reports that many Tumblr employees think the $1.1 billion offer is "too low," even though they've "been told that the company only has enough funds to operate for a few more months, as its costs far exceed the limited revenue it earns." (Of course, they don't really have a say in the matter, as only Tumblr's executives and board members are in a position to make a deal.) Tumblr's investors — which include Spark Capital, Union Square Ventures, Sequoia Capital, Greylock Partners, Insight Venture Partners and the Chernin Group — might be more pleased: The company has raised around $125 million in venture capital since its 2007 inception, and it is currently valued at around $800 million. Obviously, Yahoo would be paying premium for Tumblr. Whether Mayer will ever be able to justify the bill will probably remain unclear for a while.
Update: In a Tumblr post, Yahoo CEO Marissa Mayer promises that her older, way less cool internet company won't "screw it up." In a post of his own, Tumblr CEO David Karp assured his people, "We won't let you down." He also signed off on the note with a "fuck yeah."