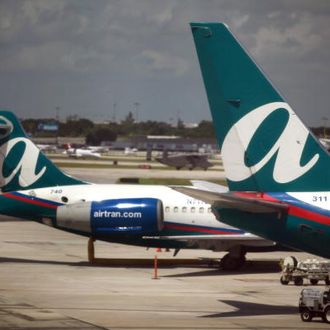 The airline that ejected more than 100 seniors on a class trip says the students from Brooklyn's Yeshiva of Flatbush wouldn't turn off their phones or stay in their seats, so it had to kick them off. The students, their chaperones, and the school administration say the crew of their AirTran flight overreacted by telling the group of 109 to leave the Atlanta-bound plane from LaGuardia. After booting the group off the 6 a.m. flight Monday, the airline put the students on other flights, some of which took a detour through Milwaukee and arrived twelve hours later, and gave the students and eight chaperones a voucher for a free future trip. But both the airline and the school say they were in the right.
"Preliminarily, it does not appear that the action taken by the flight crew was justified," the school's executive director, Rabbi Seth Linfield, said in a statement. "They treated us like we were terrorists," one student told CNN. "I think if it was a group of non-religious kids, the air stewardess wouldn't have dared to kick them off." A teacher who was on the trip said some of the students did have to be told twice to settle down but, "They certainly did not do what the stewardess was claiming they did. … That's what was so bizarre."
Southwest Airlines, the owner of AirTran, said that wasn't true at all. "The sole reason these customers were removed from the aircraft was due to their behavior," a spokeswoman said in an email to the New York Daily News. "Anything otherwise is unfounded and offensive." Another spokesman told the Associated Press that the crew made "repeated requests" for the students to sit down, followed by two announcements from the captain. "The point at which the captain comes on the PA system and says, 'You all need to sit down,' is unusual."
A business-class passenger tells CNN that about ten students in the back of the plane "were laughing at them and ignoring them" when the crew told them to turn their phones off and sit down. After the group of 109 left the plane, the remaining passengers had what was probably their roomiest flight ever, as the Boeing 737 only seats 137 people.