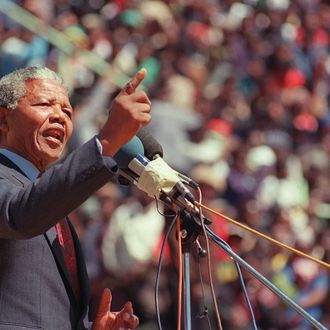 Photo: ALEXANDER JOE/2010 AFP
It's common knowledge that Nelson Mandela served 27 years in prison, helped usher in the end of Apartheid, and was elected the first black president of South Africa in 1994. As incredible as those accomplishments are, they are far from the totality of why people all over the world are mourning his passing today at the age of 95. For those too young to remember Mandela's historic fight for racial equality (and didn't even manage to catch Invictus), here's a primer on some of the most fascinating aspects of the beloved icon's life story.
1. This man that changed the world grew up in a tiny village and was the first member of his family to attend school. His father, who served as a counselor to tribal chiefs, died when he was 9, and the boy was adopted by the Thembu regent, Chief Jongintaba Dalindyebo.
2. In 1952, Mandela and Oliver Tambo set up South Africa's first black-run law firm. They provided affordable legal counsel to blacks who had broken Apartheid-era laws. Mandela wrote in his autobiography Long Walk to Freedom, "I realized quickly what Mandela and Tambo meant to ordinary Africans. It was a place where they could come and find a sympathetic ear and a competent ally, a place where they would not be either turned away or cheated, a place where they might actually feel proud to be represented by men of their own skin color."
3. He started off as a pacifist — then took up arms. Though he was initially committed to nonviolent protest, Mandela changed his stance in the early sixties and began advocating a sabotage campaign against the government. In 1961, he co-founded "Spear of the Nation" or MK, the militant wing of the African National Congress.
4. Mandela was a master of disguise and a genius at evading arrest. He was dubbed the Black Pimpernel for his legendary ability to escape capture. He frequently disguised himself as a fieldworker, a chauffeur, or a chef.
5. He was dressed in a chauffeur's outfit when he was finally arrested. In 1962, Mandela was finally apprehended while driving with fellow activist Cecil Williams. In his biography, he wrote: "At Cedara, a small town just past Howick, I noticed a Ford V-8 filled with white men shoot past us on the right … I knew in that instant that my life on the run was over with other ANC leaders of sabotage."
6. A courtroom speech about being ready to die helped save his life. Mandela's speech during his trial received international attention and was published as I Am Prepared to Die. Ironically, expressing a willingness to be executed helped spare him that fate, and Mandela was sentenced to life in prison.
7. In prison, he was highly skilled at secretly passing notes. During his incarceration on infamous Robben Island, Mandela and the other prisoners would communicate by leaving notes in discarded matchboxes, under piles of dirty dishes, and taped in toilet tanks. Using these methods, Mandela and the other prisoners organized a hunger strike and succeeded in their effort to improve their living conditions.
8. He had a chance to get out of prison — and declined, on principle. In 1985 South African President P.W. Botha offered Mandela his freedom if he would agree to renounce armed struggle. He refused, saying, "What freedom am I being offered while the organization of the people remains banned? Only free men can negotiate. A prisoner cannot enter into contracts."
9. When he finally got out, he only strengthened his fight against Apartheid. Immediately after his release from prison on February 11, 1990, Mandela urged supporters to increase pressure on South Africa's white minority government, and called on the international community to maintain its sanctions. "Now is the time to intensify the struggle on all fronts," he told the massive crowd. "To relax our efforts now would be a mistake which generations to come will not able to forgive."
10. He appeared in a Spike Lee film. Mandela has a cameo in 1992's Malcolm X as a teacher reciting one of the civil rights activist's speeches.
11. But he refused to deliver a certain line of Lee's script. Mandela declined to say the closing words "by any means necessary," so Spike Lee cut back to footage of Malcolm X saying it.
12. He worked as hard to make peace as he did to bring down Apartheid. Prior to the ANC's triumph, many feared that South Africa would descend into civil war and that there would be mass acts of violent retribution. But President Mandela established the Truth and Reconciliation Commission to investigate human-rights abuses under Apartheid and largely averted bloodshed.
13. His policies saved and improved innumerable lives. According to Anthony Sampson, Mandela's official biographer, by the end of his administration, "Three million people were connected to telephone lines and safe drinking water, 1.5 million children were brought into the education system, 500 clinics were upgraded or built, two million people were connected to the electricity grid and 750,000 houses were built providing shelter for nearly three million people."
14. He used sports to bring the racially divided country together. Mandela saw national reconciliation as one of the most important tasks of his presidency. As covered in Invictus, one key moment came when South Africa hosted the 1995 Rugby World Cup. While black South Africans despised the national rugby team, Springboks, Mandela encouraged them to support the team. When they faced New Zealand in the final, Mandela appeared in a Springboks jersey with captain Francois Pienaar's number on the back and the mostly white crowd erupted in cheers. After the team's win, Pienaar was asked what it was like to have "62,000 fans supporting you here in the stadium." He answered, "We didn't have 62,000 fans behind us. We had 43 million South Africans."
15. He was open about his biggest mistake — and tried till the end to make up for it. Though Mandela has admitted that he didn't do enough to address the HIV/AIDS crisis during his presidency, after he left office much of his work focused on combating the disease. He established the nonprofit organization 46664 (his prison number) in 2002, with the mission of promoting HIV/AIDS prevention and awareness. In 2005, he announced that his 54-year-old son Makgatho Mandela had died of an illness related to AIDS. He urged South Africans to treat AIDS as an "ordinary" disease, instead of a curse for which "people will go to hell and not to heaven."
16. He probably won more awards than anyone in history. In addition to the 1993 Nobel Peace Prize, Mandela has received more than 250 awards, including honorary degrees from more than 50 universities worldwide. In 2001, he became the first living person to be made an honorary Canadian citizen, and he was the last person to receive the Lenin Peace Prize from the Soviet Union.
17. There's now a global holiday in his honor. In 2009, the United Nations declared that Nelson Mandela International Day will be celebrated every year on July 18 (his birthday). The purpose of the day is to honor Mandela's legacy and promote community service.